BMW Unveils M Performance parts for X3 M and X4 M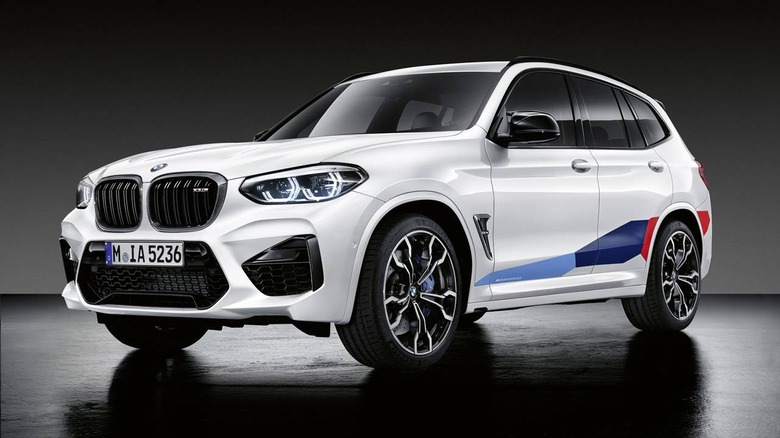 BMW has pulled the wraps off performance parts for the X3 M and X4 M SUVs. The vehicles are already high-performance rides, and the new parts make them look better and promise improved style. The performance parts include exterior and aero parts made of carbon fiber.These parts are made by hand before being sealed in a clear, high-gloss finish. The parts include a carbon fiber radiator grille, carbon fiber air breathers, and premium door sill finishers with carbon fiber inserts. A colored M Performance overprint is also available.
The X3 M can be enhanced with a high-gloss black roof edge spoiler. The X4 M can be enhanced with the rear fins in high-gloss black. LED door projectors with M Performance motifs are offered. They can throw the BMW M logo or other sports-style graphics on the ground next to the vehicle.
Inside the vehicle, carbon fiber accents are offered, including an M Performance Pro steering wheel that has carbon fiber Alcantara steering wheel trim and carbon fiber shift paddles. Parts of that steering wheel are covered in leather, and it has a center marking in blue leather. M Performance shift paddles are offered in carbon fiber fabric with a high-gloss finish.
BMW also offers an M Performance key case in Alcantara with carbon fiber. It protects the key from scratches and damage. M Performance wheel bags protect the vehicle from soil when transporting wheels and keep the wheels from being scratched. Pricing on the M Performance parts is unclear at this time as is the availability of the parts. None of the parts will improve performance; they are all for styling.