BMW unveils Concept X4 Sports Activity Coupe design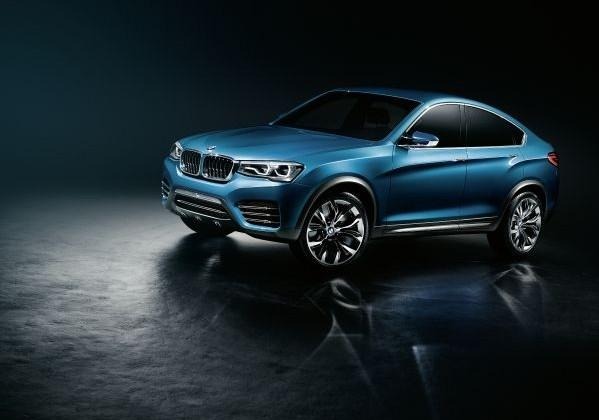 BMW has unveiled the Concept X4, a sports activity coupe touted as being "the future of the BMW X family." This snazzy-looking car is boasted as being a mixture of high performance/driving dynamics and eye-catching, with highly detailed design that is a mixture of sophisticated and beastly. Prduction is slated to start in early 2014, although no definite date was provided.
The BMW X4 will be manufactured at the BMW Plant Spartanburg, which is located in the United States. The car features 21-inch alloy wheels, round LED headlights, a kidney grille, and a high-gloss frame. The entire vehicle is designed to be highly dynamic, with carefully positioned air intake vents, milled bars, and chrome edges. This results in contrasts that work together to help form a complete design that is both appealing and functional.
The side of the BMW X4 shows off the vehicle's long wheelbase and bonnet, as well as short overhangs and wedged-shaped flanks. The sweeping downward roof is designed to make the car seem long. BMW says the car's "visual center of gravity" has been lowered over other vehicles in the line, something that gives it more of a sporty look. There are swage lines above a concave area to draw emphasis to the wheels.
And then, moving on to the rear of the Concept X4, the design puts emphasis on horizontal elements, which is amplified by slim LED lights pushed outwards towards the maximum edges of the car's back, amplifying the sportscar look. Combinations of light/dark colors and horizontal design elements are meant to make the car seem shorter, and the most obvious, eye-catching feature is said to be the rear apron with two tailpipes and a swooping design fading out towards the tires.
Of course, a picture is worth a thousand words, so check out the gallery below.
[via BMW]