BMW recreates the BMW Garmisch concept car from 1970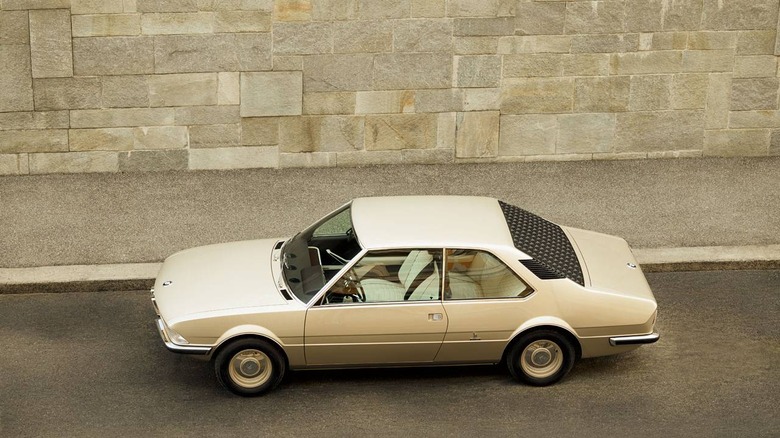 BMW has unveiled the recreation of a classic concept car from 1970 at the Concorso d'Eleganza Villa d'Este. The car is called the BMW Garmisch, and Marcello Gandini designed it for Bertone. The original car vanished after its debut at the Geneva Motor Show in 1970.
BMW says that from the early days of the brand, it was inspired and influenced by Italian design and coachbuilding culture. Bertone developed the original BMW Garmisch as an independent design proposal meant to show off its creativity. The idea was from Nuccio Bertone himself wanting to consolidate the relationship with BMW with a surprise show car for Geneva in 1970.
One key aspect to the design of the Garmisch was a vertical and somewhat angular variation of the BMW kidney-shaped grille with square, glass-covered headlights. Inside the car has a strange vertical radio that would have been hard to use and a fold out mirror for the passenger along with what looks like a big storage bin.
It looks as if it were meant to be a place for a passenger to put on makeup or fix their hair. The name of the car, Garmisch, was chosen because skiing was very popular in Italy at that time. The name was said to evoke dreams of winter sports and alpine elegance. BMW had the challenge to recreate the missing concept car from the past.
Marcello Gandini contributed to the research process with memories from the creation of the original car allowing the BMW team to refabricate critical details of the car, such as the exterior color, a light champagne metallic. The recreation was built by skilled craftsmen in Turin, Italy, just as the original car was in 1970. The finished vehicle looks both retro and futuristic at the same time.