BMW Navigator V by Garmin feature 5-inch glove friendly screen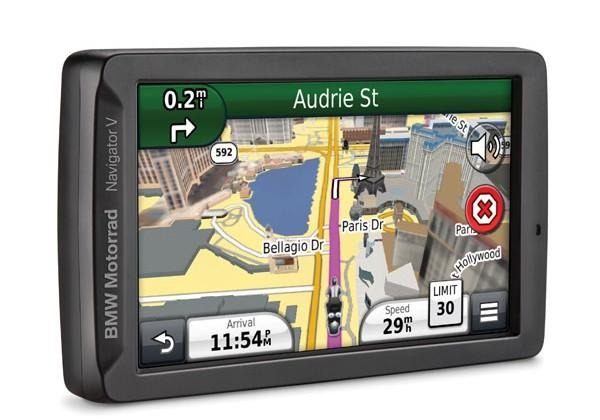 Garmin and BMW Motorrad have announced that they have teamed up again to develop the next generation BMW Navigator. The new version is the BMW Navigator V and it promises to combine garments latest navigation features with BMW-specific functions. The navigator is specifically aimed at BMW motorcycle riders.
The BMW specific functions include a customized mount and access to real-time motorcycle information. The BMW Navigator V also includes advanced audio and Bluetooth capabilities. The GPS device has a five-inch display that is glove friendly and makes navigation information easy to see at a glance.
The integrated Bluetooth capability allows riders to hear navigation props, answer calls, and listen to music through helmet mounted speakers. Some BMW motorcycles are compatible with the real-time information view on the navigator called MyMotorcycle Pages. The details offered on those pages include tire pressure, fuel level, and when the next service is due.
The motorcycle specific information also includes things such as how many times gears were shifted, how many times brakes were applied, and the average throttle position. The premium navigation features for the device include active Lane guidance, real directions, junction views, 3-D terrain, and more. The Real Directions feature tells riders things like "turn right after the Starbucks" or "turn left at the traffic light." It's much easier than telling someone to turn at a street name.
SOURCE: Garmin