BMW key-card unlocks car & works as contactless payment system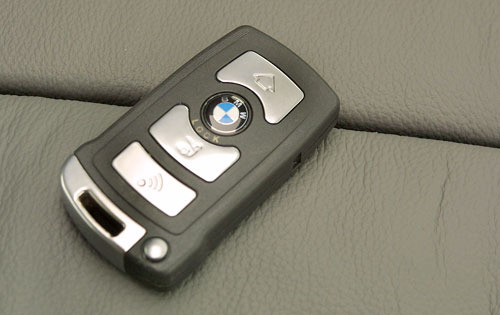 BMW and NXP Semiconducters have announced what they're calling the world's first multi-functional car key.  Currently in prototype form, the key features contactless payment, personalized access control and public transport e-ticketing for when you've left your 7-Series in the parking lot.  Future functionality could include general shopping, paying for gas, parking fees and road tolls.  Using the same credit-card form-factor as other contactless car keys, the BMW prototype aims to replace not only your keys but your cash.
The system is based on NXP Semiconducters' SmartMX P5CD081 series wireless chipset, which has smaller antennas than rivals meaning the overall card can be smaller.  It's compatible with the EMV (Europay-Mastercard-VISA) standard and can use a variety of encryption standards.  In addition, voltage, frequency, temperature and light sensors can monitor whether the card has been physically tampered with.
In BMW's application, the card will be able not only to unlock the car but also call up personalized settings. This could range from seat position to radio presets, GPS data and anything else under the remit of BMW's iDrive in-car computer system. It can also be programmed to temporarily open other vehicles, such as hire cars or replacement vehicles during servicing and/or repairs, or even shared cars, and BMW intend to use it in the future to deliver more personalized services.
Press Release:
The World's First 'Smart' Car Key Prototype

Secure Contactless Payments Based on NXP's SmartMX Chipset

EINDHOVEN, Netherlands –(Business Wire)– Oct 21, 2008 BMW Group Research and Technology and NXP Semiconductors, the independent semiconductor company founded by Philips, have unveiled a prototype of the world's first multifunctional car key. The prototype features contactless payment, personalized access control, and advanced functionalities including public transport e-ticketing, to deliver an enhanced mobility experience. Powered by NXP's SmartMX security chip, the prototype – for the first time – allows drivers to perform quick, secure and convenient electronic payments with a car key, creating exciting new usage scenarios for future consumers.

In the future, car owners may benefit from the ease-of-use of contactless payments for ad-hoc transactions including general shopping, paying for your petrol, public transport, parking and road tolls, replacing the need for cash or additional cards. NXP will demonstrate the car key prototype at its booth during the CARTES & IDentification show in Paris from 4th to 6th November 2008.

By turning the car key into a personalized credit card, many additional mobility scenarios become possible. The future consumers will be able to securely gain access to personal data and be authorized for personalized in-vehicle online services in any BMW vehicle that they own or drive. The personal credit card key may also be temporarily registered with other cars. Renting or sharing cars becomes very convenient, even more as personalized authorizations and service settings can be automatically activated in these vehicles. Moreover, when public transport tickets are loaded to the personal key, this device becomes a companion for seamless mobility.

"With the concept of integrating contactless payment functionality in a car key, we are working on the combination of automotive technology and lifestyle," said Prof. Raymond Freymann, managing director of BMW Group Research and Technology. "In cooperation with NXP we are doing research in enhancing the capabilities of the car key into one smart device for access, payment, and services that will simplify the lives of BMW car drivers in future. It will help us to stay in touch with our drivers directly and deliver a complete range of mobility-enhancing services."

"Together with BMW, we are underlining our global leadership in remote key-less vehicle 'entry and go' and contactless identification, by delivering a compelling contactless application that will continue to drive innovations in smart card banking and the automotive industry," said Marc de Jong, executive vice president, business unit automotive and identification, NXP Semiconductors. "The transformation of a car key into a credit card goes beyond the limitation of traditional payment possibilities and is a natural evolution to improve car owners' payment experiences. Innovative smart card solutions from NXP provide the security, the flexibility and the performance to support the growing industry demand for different form factors in payment applications, such as car keys, key fobs, watches or Near Field Communication-enabled mobile phones, to enhance the lifestyles of consumers."

Featuring smaller antennas than standard smart cards, NXP's SmartMX P5CD081 series is an ideal solution for integration into a broad range of different form factors. The integrated dual-interface chip, which will be EMV compliant and Common Criteria EAL 5+ certified by the German Federal Office of Information Security (Bundesamt für Sicherheit in der Informationstechnik), ensures that the credit card application complies with the highest security requirements.

About NXP Semiconductors

NXP is a leading semiconductor company founded by Philips more than 50 years ago. Headquartered in Europe, the company has about 33,500 employees working in more than 20 countries and posted sales of USD 6.3 billion (including the Mobile & Personal business) in 2007. NXP creates semiconductors, system solutions and software that deliver better sensory experiences in TVs, set-top boxes, identification applications, mobile phones, cars and a wide range of other electronic devices. News from NXP is located at www.nxp.com.

About BMW Group Research and Technology

BMW Group Research and Technology (BMW Group Forschung und Technik GmbH) is a 100% subsidiary of BMW AG and is in charge of the following research topics at the BMW Group since 2003: Vehicle Technology, CleanEnergy (hydrogen technology), EfficientDynamics (intelligent energy management/alternative drivetrains), ConnectedDrive (driver assistance/active safety systems) and ITDrive (IT-architecture and communication technology). Being a limited company, legal autonomy from the BMW Group allows a maximum of creativity and flexibility. An internationally established network, with Technical Offices in the USA (Palo Alto, CA and Clemson, SC) and Japan (Tokyo) as well as Liaison Offices in France (Eurécom in Sophia Antipolis) and in Germany (German Research Center for Artificial Intelligence, DFKI GmbH in Saarbrücken) ensures global access to trends and technologies.