This is the BMW Concept X2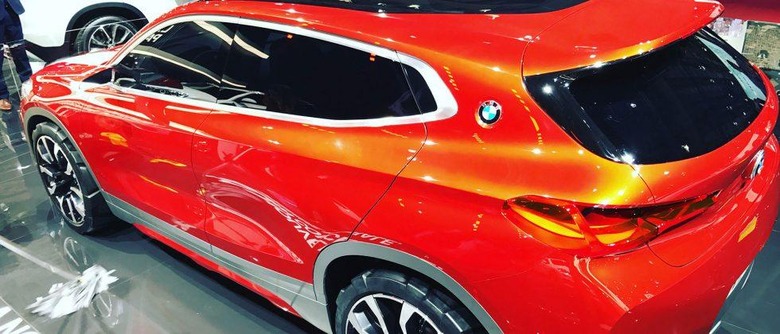 This week the folks at BMW have revealed one of the most unique-looking concept vehicles of the show in the BMW Concept X2. This vehicle is being premiered alongside the and the BMW i3 (with increased range and improved battery) as well as the BMW 3 Series Gran Turismo. The BMW Concept X2 is a compact vehicle, made to show off BMW's chops in coupe-making and in making a fine looking vehicle that combines futuristic elements with today's popular urban stylings.
This vehicle features a forward-slanted C-pillar as well as a long wheelbase. Also prevalent are the vehicle's longer roofline and tiny overhangs all around. This vehicle is being premiered at Mondial de l'Automobile Paris 2016, but it'd fit in well in uptown, Minneapolis or downtown Dallas, no problem.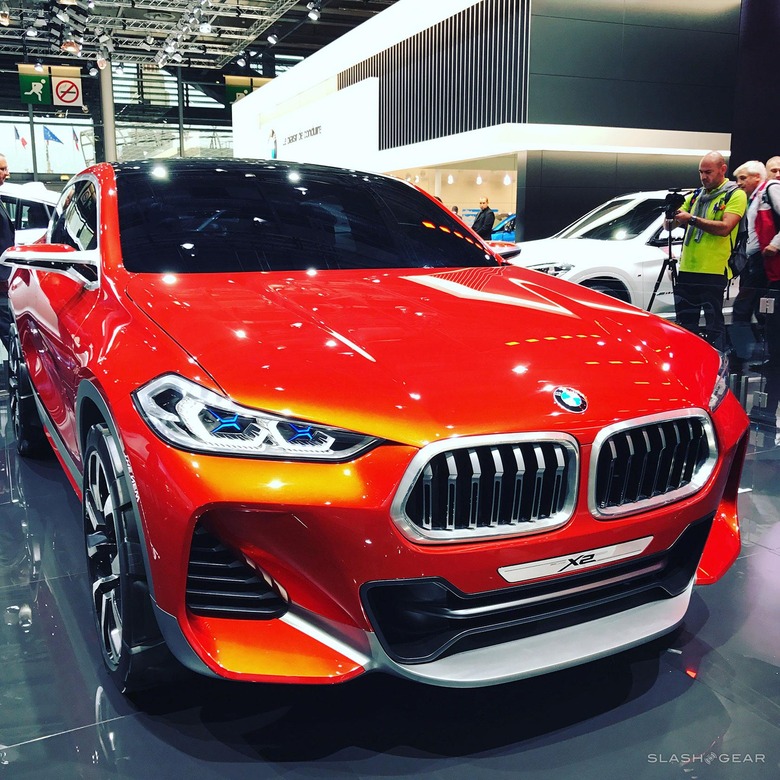 This vehicle features a two-box design with what BMW describes as a "functional X model character."
While some concept vehicles being shown this week are completely off-the-wall, wacky, and aimed at showing some major space-age inspiration for the next generation of vehicles, BMW seems set on making a concept vehicle here that's ready to drive right this minute.
This vehicle might seem like a big departure for hardcore fans of the X1, or even the vast majority of BMW's vehicles revealed over the past couple of years. This vehicle has a couple of large cheeks, your mother might say, and features that make it look like a big set of exaggerations. But big air intakes and daring lines make this concept very much a part of a future we're happy we're about to live in.
"The BMW Concept X2 combines the fast-moving body language and low-slung proportions of a coupe with the robust construction of an X model," said Karim Habib, Head of BMW Design. "This is a sporty vehicle with a bold character, and it allows us to open up some fascinating new design possibilities for the BMW brand."
ABOVE: Images photographed by SlashGear at this year's Paris Auto Show.
BELOW: Photos from BMW.
ALSO: The press release for this vehicle includes the following excerpt, so we've gone ahead and sharked this one out ourselves just for the heck of it.
"Graphically modelled and heavily angled bars within the kidney grille create an undeniable 'shark nose' effect," said a BMW representative, "bringing additional depth and sculptural richness to this area of the car. "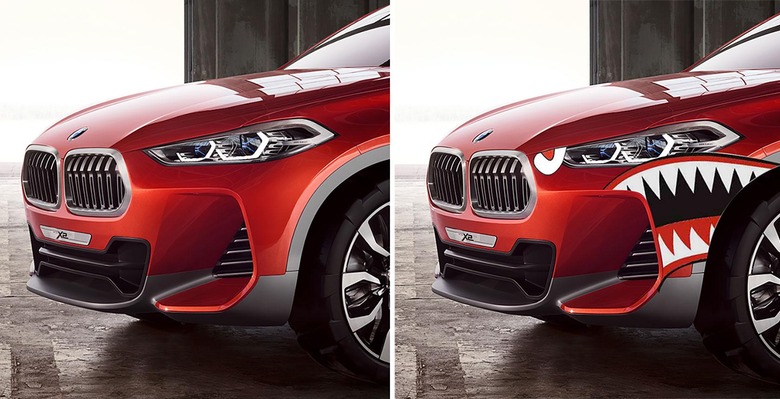 Look like it fits?
So fierce!