BMW Concept M4 GTS is ready for the track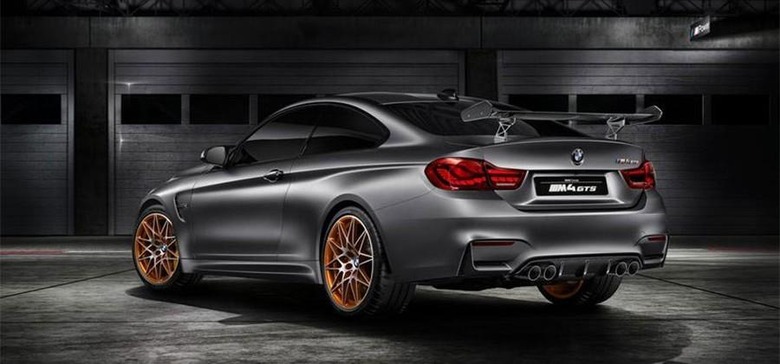 BMW has produced some very special models of the M3 sports car in the past going all the way back to the 1988 BMW M3 Sport Evolution and ending with the BMW M3 CRT in 2011. With the M4 having been on the market for a year now, BMW has pulled the covers off a new concept car that is the first special M4 model. The car is called the BMW Concept M4 GTS.
The M4 GTS has a lot of new tech that will debut later this year on production models. That tech includes water injection that is able to help the engine bump power and torque output in the M4 MotoGP Safety Car. OLED rear lights are also used on the M4 GTS.
The car has a number of features designed to help it perform on the track such as a manually adjustable front splitter and rear wing made from exposed carbon fiber. Those two components work together to help the car stay planted and balanced at high speeds on a racetrack. The hood is made using carbon-fiber-reinforced plastic to lower its weight and it has a front air intake to maximize airflow.
The outside of the car is painted Frozen Dark Grey metallic with acid orange accent. Wheels are lightweight forged and polished units with Acid orange accents. Those wheels are fitted with 265/35-19 front and 285/30-20 rear Michelin Sport Cup 2 tires. BMW doesn't say exactly how much power and torque the car makes. The world premier for the car was yesterday at Pebble Beach.