BMW 7 Welcome Light Carpet Shows You Where Your Car Is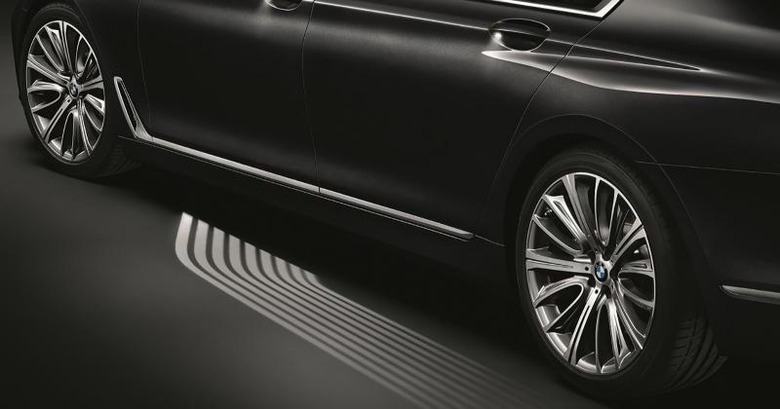 If trying to walk through a poorly lit parking lot weren't exasperating enough, struggling to find where your car and its door is could very well be. Imagine if you could, at the push of a button on the key fob, shine a light on the problem. That's exactly what BMW did with its BMW 7 Series and its new "Welcome Light Carpet" feature that illumines the ground on both sides of the car, guiding owners to the safety and comfort of their high-tech, luxurious car.
Truth be told, this isn't the first nor the only such lighting solution employed by car makers today. Some install the lights on the exterior mirror. But when you open the door, the project light also moves away from the intended target. Some place the lights at the bottom of the door, much closer to the ground. However, the light actually doesn't hit the ground until the door is already opened, rendering it practically useless.
Thanks to research from the Fraunhofer Institute for Applied Optics and Precision Engineering IOF in Jena, BMW was able to place the light where it matters the most: on the underbody of the car. In essence, the system uses microoptic lenses to project light on the ground, covering four square meters, in a striped pattern that leads from the back of the car all the way up to the door and continues to illuminate the correct area even when the door has been opened. The light show is accomplished by utilizing extremely small projectors grouped together in a honeycomb pattern. The number of projectors only increases the intensity of the light but doesn't increase thickness of the light array, allowing the engineers to fit them on underbody of the car.
And in case you think that putting a light array underneath the car would be a recipe for disaster, at least for the lights, the researchers have of course thought of that as well. The array faces away from the direction of the car's travel, which protects it against stone and dust thrown up by the car's movements. Although dirt might be a bit of a problem, it can only reduce the intensity of the light produced. Thanks to the multitude of projectors used, 150 in BMW's implementation, the light can never be completely obscured.
Fraunhofer's technology is now a part of every BMW 7 Series car, but that, of course, isn't where it ends. IOF Microoptic Systems department head Dr. Andreas Bräuer envisions the array lighting technology to also be of benefit to other industries, like in safety, engineering, and medical applications.
SOURCE: Fraunhofer