Blynk builds apps for any Arduino project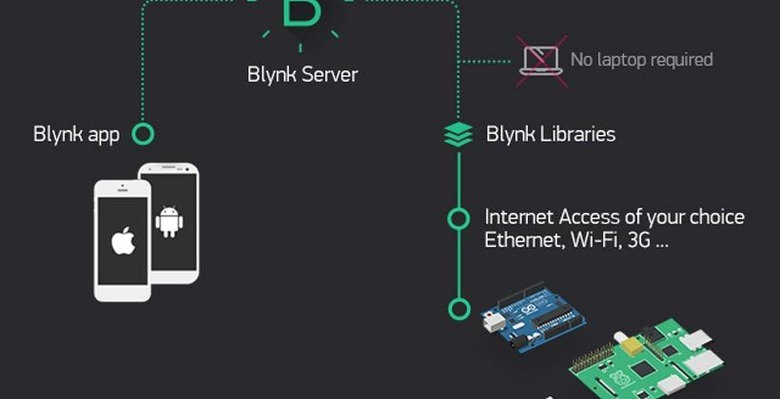 For many people who like to build things that use Arduino to operate one of the most difficult parts is making an app or software to control the project. A new program called Blynk has turned up seeking funding that promises to make creating the software to control your project the easiest part of the entire project.
Blynk is a platform that has iOS and Android apps that can be designed in minutes to control Arduino, Raspberry Pi, and similar microboards over the internet. Blynk is sort of a prototyping board on your smartphone with drag and drop buttons, sliders, displays, graphs, and other widgets that can be arranged on the screen in minutes to control Arduino and gather data from sensors in the project you built.
You don't need a new Arduino Shield to make Blynk work, the Blynk system is designed to support the boards and shield you are already using. Blynk can also work over USB connections. The only hardware required for Blynk to work with your project is hardware that is able to talk to the Internet.
Blynk libraries currently support USB, Ethernet Shield, WiFi shield, Arduino with Ethernet, Arduino YUN, Raspberry Pi via the Pi GPIOs, and other Arduino compatible shields and boards. Support for Spark Core and ESP8266 is also planned. Blynk is on Kickstarter now seeking $10,000 and has raised over $15,000 with 18 days to go. A pledge of $5 will get you the basic Blynk app for Android when it his Google Play. A pledge of $10 will get you the Android and iOS versions of the app. Either version of the app with all the widgets will set you back $20 with delivery expected in April 2015.
SOURCE: Kickstarter