Bluetooth PS3 Keypad & dual-USB AC adapter announced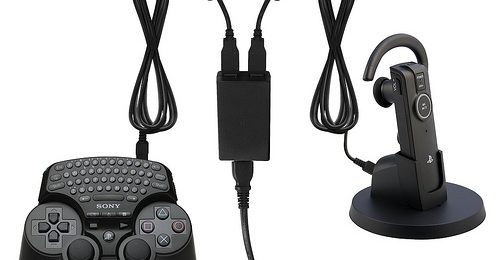 Sony has announced two new accessories for the PS3 that will ship this holiday.  The first is the Wireless Keypad for PS3, a Bluetooth keyboard that clips onto the controller and recharges via USB.  Second comes an AC adapter for peripherals, with two separate USB power outputs that can be used to recharge the wireless DUALSHOCK 3 and SIXAXIS controllers, Bluetooth headset and new Bluetooth keyboard without turning the console itself on.
Wireless Keypad demo video after the cut
The AC adapter can also recharge the PSP 2000 and PSP 3000.  As for the Wireless Keypad, as it connects via the standard HID Bluetooth profile it can be used with devices other than the PS3, such as smartphones and MIDs.  It also has a touch-pad mode for easy navigation, together with shortcut keys for functions such as instant messaging or calling up the friends list.
The Wireless Keypad for PS3 will be in stores from the first week of December, with an MRSP of $49.99.  The AC Adapter, meanwhile, will begin shipping the second week of December, with an MRSP of $24.99.