Bluetooth 4.2 will get faster, more private [UPDATE]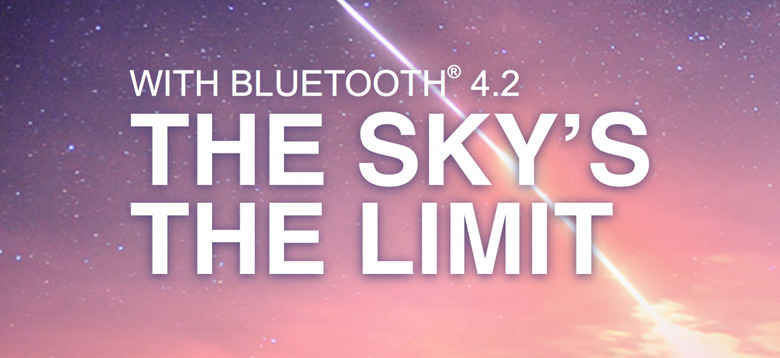 One of the most-used connections between your smart devices is about to get a whole lot faster and more secure. The folks at the Bluetooth Special Interest Group (SIG) officially adopted a new standard of Bluetooth technology, Bluetooth 4.2. Bluetooth is now in nearly every smartphone and tablet on the market, and with this new specification, the technology can expand before devices are even at the point at which developers have found use-cases. The next generation of Bluetooth devices – coming as soon as this Spring, in some cases, will have more secure connections, faster connections, and a more diverse portfolio of connectivity options.
Three segments are being improved in this next-generation release of Bluetooth 4.2 and IPSP (the new profile for which this Bluetooth 4.2 specification will ratified.)
• Privacy and Security
• Internet Connectivity
• Speed
Bluetooth 4.2 ensures that eavesdropping Bluetooth connections cannot connect to you without your permission. This system also makes it so connections cannot track you without your permission. Bluetooth SIG gives the example of a retail store with beacons – unless you've enabled permission, you can no longer be tracked.
Internet Protocol Support Profile (IPSP) allows Bluetooth Smart sensors to access the internet straight through IPv6/6LoWPAN. This update uses existing IP infrastructure and connects to Bluetooth Smart "edge" devices, making this tech perfect for connected smart home systems.
Bluetooth 4.2 will also use Bluetooth Smart Generic Attribute Profiles (GATT) architecture with internet connectivity by early 2015.
Speed has been boosted by increasing the capacity of Bluetooth Smart packets. This allows devices to transfer data back and forth over Bluetooth up to 2.5 times faster than previous versions.
Will future Bluetooth 4.2 devices be backwards compatible with current-gen Bluetooth devices out today? "Devices implementing only the low-energy feature (Bluetooth Smart) in Bluetooth 4.2 will be backward compatible with Bluetooth 4.0 or 4.1 devices that also implement the low-energy feature," says Bluetooth SIG, "Devices implementing the Basic Rate/Enhanced Data Rate (BR/EDR) Core Configuration will be backward compatible to all adopted Bluetooth Core versions beginning with 1.1 that also implement Bluetooth BR/EDR."
UPDATE: Straight from Bluetooth SIG – "privacy features may be available via a firmware update, but it does ultimately depend on manufacturer implementation. The increased speed and packet size features will require a hardware update."