BlueStacks Android Apps On PCs Made Simple With AMD AppZone Player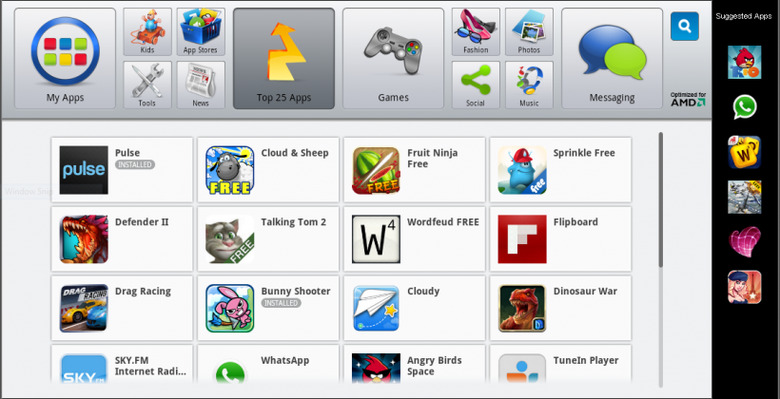 Another rather fabulous step towards total cross-platform compatibility has been made this week as the AMD AppZone Player is announced with full BlueStacks power under the hood. What you'll be doing here is working on your AMD-toting PC with an application called AMD AppZone Player – with this app you'll be able to play any and all AMD AppZone Android-based apps at your leisure. At the moment you'll not have direct access to the Google Play app store, but there's always a workaround.
This announcement has the AMD AppZone Player made to work perfectly with Android apps even if they were made for phones or tablets. With the player, you've got BlueStacks providing you with an optimized experience that makes full use of AMD Radeon graphics and OpenGL drivers found in AMD APUs and GPUs. At the moment there are 50 free apps – some of the biggest names in the app universe in general – available for your perusal.
This technology also works with a Cloud Connect service that'll allow you to sync both apps and SMS messages with your Android smartphone or tablet. You'll need the BlueStacks Cloud Connect app on your Android device as well – but once you've got it, you'll be up on both machines like a snap. Cloud Connect is up on the Google Play app store right this minute for you to download and utilize.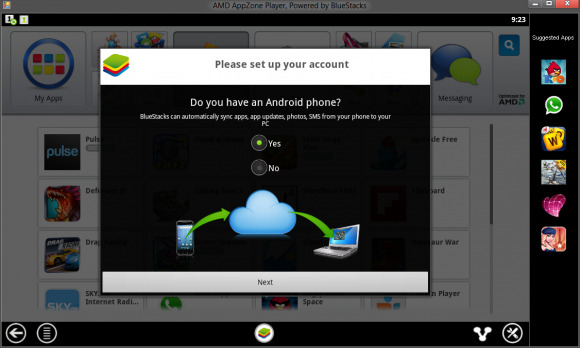 BlueStacks makes this process simple – just head to the AMD AppZone and download any app to your AMD-toting PC. When you do, you'll have an automatic check to see if you've got the AMD AppZone Player, and if you don't, you'll have the option to download it instantly. So very simple for all the PC/Android lovers!