Blue Spark Digital condenser microphone for iPad revealed and detailed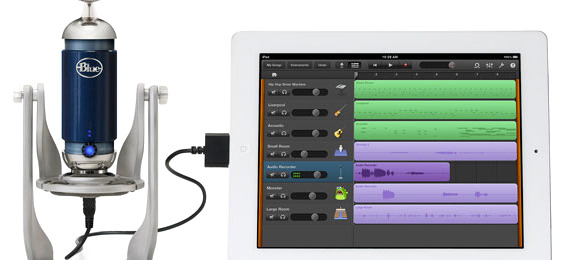 There's a brand new studio-grade condenser microphone in town for both USB and iPad, and it comes from Blue Microphones. This mic goes by the name Spark Digital and is able to produce darn-near completely excellent sounds with a the same amount of high-quality craftsmanship that went into the company's other excellent comparable mic, the Spark XLR. What this Spark Digital unit does is take the same studio-grade condenser capsule plus hand-tuned components and sets you up for whatever you want to record – be it a podcast, music, location recording and more!
In this device you've got built-in focus control, this offering you two different sonic options with the tap of a physical button. A lovely blue light up front of the device lets you know when you're rolling, and an adjustable desk stand and built-in shockmount allows you to get the grade audio you want wherever you may roam. You get y-cables for each platform you want to work with as well as a headphone jack so you can listen in on what exactly you'll be recording as the device records in real-time.
You've got a noise level of 10 dB (A-weighted), sound to noise ratio of 84 dB, and frequency response of 26Hz to 20kHz. You can use your iPad or iPad 2's own Apple 30-pin connector to hook this device up or any USB 2.0+ cord straight to your laptop. You get a sensitivity rating of 28 mV/Pa, SPL handling range of 65-128 dBA, and the whole thing comes in a lovely blue and silver color combination. This device is not yet priced or dated, but it IS being shown off this week at MacWorld | iWorld 2012, so stay tuned!