Blue Origin first to successfully land reusable rocket, beating SpaceX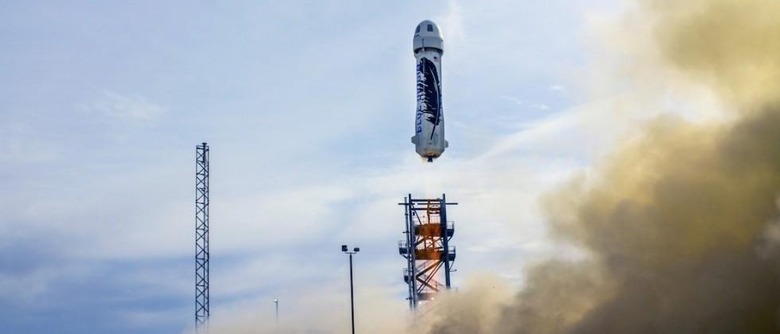 Elon Musk's SpaceX has been generating most of the headlines recently when it comes to privately owned space agencies, but Blue Origin, owned by Amazon CEO Jeff Bezos, has just taken the lead in one of the former's most impressive initiatives: to develop a reusable rocket and successfully land it after launch. Blue Origin announced today that its BE-3 rocket took an unmanned crew capsule to suborbital heights, separated, and then made a controlled decent ending with a vertical landing.
Blue Origin says the launch took place on November 23rd in West Texas, seeing the BE-3 rocket and capsule, together known as New Shepard, reach a height of 62 miles (100.5 kilometers) before separating. The capsule made its decent via parachute, while the rocket began firing at 5,000 feet, slowing to just 4.4 mph in a matter of seconds, followed by a gentle landing.
Bezos himself noted, "now safely tucked away at our launch site in West Texas, is the rarest of beasts—a used rocket," adding how the BE-3 reached 329,839 feet, descended through high-altitude crosswinds of 199 mph, and finally made a "controlled landing just four-and-a-half feet from the center of the pad."
This doesn't mean that SpaceX isn't far behind, however, as just earlier this year they came incredibly close to landing their own reusable Falcon 9 rocket on a floating platform in the sea, only for it to falter at the last second.
Blue Origin's New Shepard is mostly intended to be used one day in commercial space tourism, with the capsule able to carry six astronauts to an altitude of about 100 km, as portrayed by the CG animation in the middle of the video above.
SOURCE Blue Origin