BLU Studio 5.5 phone is large, off-contract, and priced to move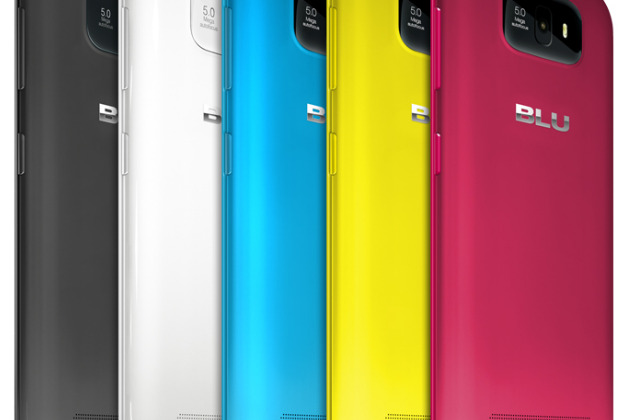 BLU Products has announced its latest in its Studio series, a 5.5" no-contract phone pricing in at just $179—an extremely reasonable tag for such a huge screen. A respectable entry-level phone for the big-screen fans, the BLU Studio 5.5 is available in 80s neon yellow sports car, 80s lipstick pink, 80s ski boot blue, 80s chic faux leather white tablecloth, and this-century charcoal-for-poindexters (not the official color names.)
Under the blindingly hued (except the charcoal) casings lie a quad-core MediaTek 1.2GHz processor running Android 4.2 Jelly Bean with 1GB of RAM and 4GB of hard storage, expandable via microSD card slot to 64GB. It has a 2250 mAh for 300 hours of standby and 4 hours of talk time.
The 5 MP backside (forward-facing) camera also shoots 1080p video; the front has a VGA cam for video chats and selfies. The screen itself has a 480 x 864 resolution, and the phone is 3G-ready.
The BLU Studio 5.5 may not pack quite as much punch as some of the more powerful large-screen smartphones, but the Zeitgeist is loving the price point. For these specs and for being off-contract, not too many eyebrows would raise if it were selling for $100 more than BLU is asking.
SOURCE: BLU Products