Blu-Ray Disk Association Offers Free Movies When You Purchase A Blu-Ray Player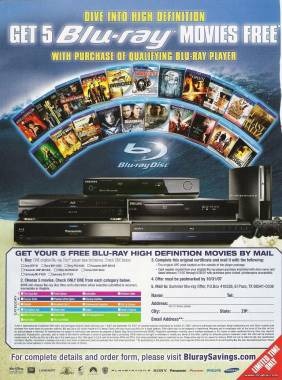 If you haven't purchased a Blu-ray player, then wait just a few days because the Blu-ray Disk Association has just sweetened the pot by giving away free movies.
Similar to the promotion that accompanied HD-DVD players earlier this year, when you purchase a Blu-Ray player, you will get to choose five movies for free out of a selection of 21 different titles. You can grab a form from the official site and have your movies mailed to you. You'll need to make your purchase between 7/1/07 and 9/30/07 in order to be eligible for the offer.
If you were wondering, the Sony PS3 does in fact count as a Blu-ray player and therefore the promotion will apply. The offer only applies to those located in the US, perhaps they will offer similar promotions in other regions.
Purchase a Blu-ray Player, Get Five Free Movies [via dailytech]