Bloomingdale's and Bodymetrics team up for open body sizing pod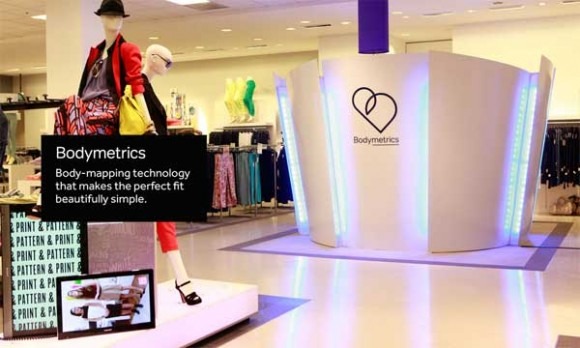 I think many people would agree that trying on clothes is no fun. There are major differences between how a man shops for clothes and how woman shops for clothes. My wife will go in, try on everything in the store, and then leave with nothing while I go in and walk out with exactly what I needed without bothering with the fitting room.
Department store Bloomingdale's and a company called Bodymetrics have teamed up to put high-tech fitting room into a Bloomingdale's store in Palo Alto California. The store is located at Bloomingdale's Stanford Shopping Center. To use the open body sizing pod, the shopper steps into the private booth and technology carefully maps their body using hundreds of measurements and contours.
After the body mapping is complete, the idea is that the shopper will know exactly what pair of jeans to purchase to best fit their body. The body sizing pod uses a Microsoft Kinect for Windows sensor and is apparently accurate enough for the user to know what genes will fit without having to try them on.
A similar body sizing pod been used for the last three years in a UK store called Selfridges. The pod in that particular store, located in London, delivers one of the highest retail yields in the world. The body sizing pod in that store accounts for 20% of all premium denim sales according to Bodymetrics. I think this is a great idea if you're not sure what size you need for some reason, simply stepping into this pod is a much better option than having to try out about clothes.