Bloodhound SSC successfully completes its first public speed runs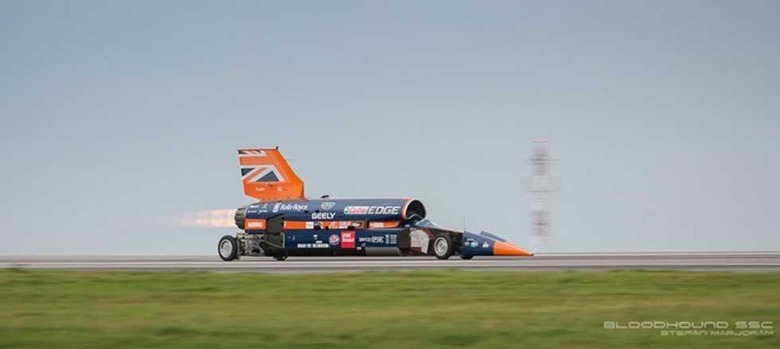 Yesterday the speed demons behind the Bloodhound SSC jet car completed their first public runs in the vehicle on their quest to beat the world land speed record. The first public runs of the vehicle were completed at Cornwall Airport Newquay where it reached a top speed of 210 mph. The vehicle streaked down the 9,000-foot runway with acceleration at 1.5G.
The top speed for the runs of 210 mph was reached in only 8 seconds. Bloodhound SSC is powered by a Rolls-Royce EV200 jet engine that is normally found inside a Eurofighter Typhoon fighter jet. That jet engine develops 20,000 pounds of thrust.
That number converts to an astonishing 54,000 thrust horsepower. It would take about 360 typical family cars to match that horsepower number. The Bloodhound and its crew have a long way to go before it can attack its goal of 1,000 mph.
During the public runs, Bloodhound SSC used runway wheels that were originally from an English Electric Lightning fighter jet. Those tires are very low friction and were specifically reconditioned by Dunlop for the event.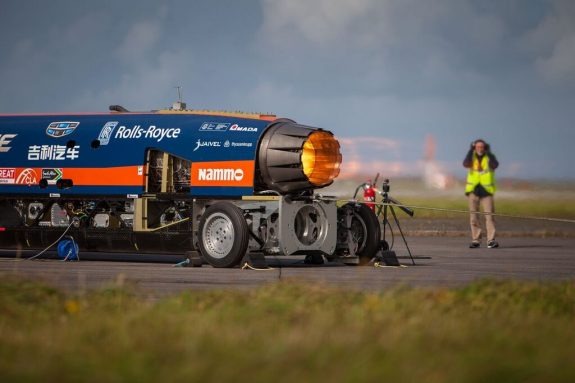 During the actual top speed run, to be held at a dry lake bed in Hakskeen Pan, South Africa, the supersonic car will be rolling on solid aluminum wheels with even less grip than the runway tires. That makes the car very hard to slow down and slowing down from 1,000 mph is critical. The car also has a bulletproof exterior to protect the driver from debris
SOURCE: Bloodhound SSC