BLOCKS modular smartwatch is officially dead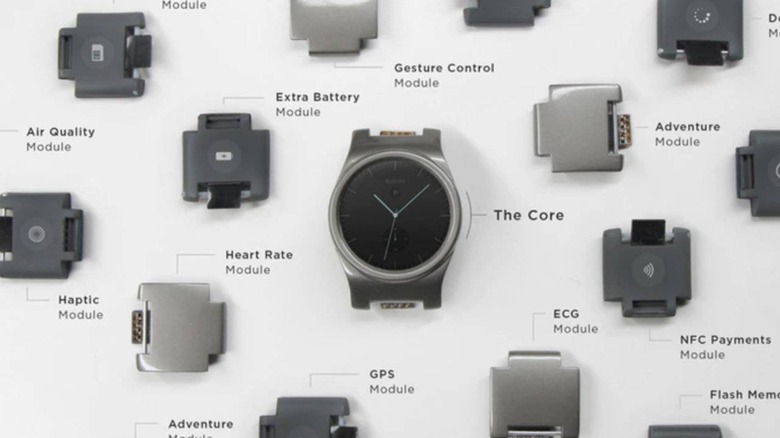 BLOCKS, the modular smartwatch that launched in 2014, is officially dead. Backers of the crowdfunding campaign were on the receiving end of a recent email advising that BLOCKS Wearables Ltd. is being liquidated. A backer-only update has also appeared on the product's Kickstarter campaign warning backers that the company has run out of money. The failure has been in the pipeline for more than a year.
Put simply, BLOCKS was a modular smartwatch intended to offer consumers an upgradable wearable made with parts that could be individually swapped out and replaced. It's a nice idea — one could, for example, easily swap out the display if it gets too scratched or breaks. The same is true for old batteries that need replaced and other components.
In reality, though, bringing a modular consumer gadget to market is difficult. Google previously shuttered its own modular smartphone project and now BLOCKS is going the same route due to a lack of funding. The company behind the modular watch started looking for investors in April 2018 after burning through its crowdfunded money, but it's unclear whether it was successful in getting those funds.
News of the liquidation surfaced from backers who shared screenshots of the email alert on Reddit. Due to the company's lack of money and the nature of liquidation, it's likely backers will never see any of their money returned, though it's unclear at this time how the matter will play out.
This isn't the first Kickstarter campaign to end without success after running out of money. Crowdfunding is always a risk for consumers who should be careful to investigate projects before backing them and understand the risks they're taking before they part with their money. That doesn't mean crowdfunding campaigns should be entirely avoided, however — some companies like Lomography use these platforms to launch new products and have a good track record of doing so (though the risk remains, of course).