Blockbuster plans to sell phones at its retail stores, sources say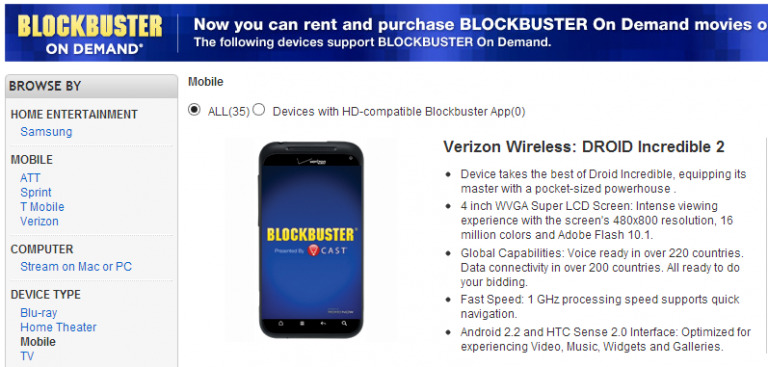 Some individuals claiming to be on the inside have revealed that Blockbuster plans to sell phones at its retails stores, of which there are about 850. The company already offers phones online from the likes of T-Mobile, Sprint, AT&T, and Verizon. This information comes via Bloomberg, where the unnamed sources provided a few details.
Currently, you can pull up a host of devices on Blockbuster's website, with each device listening its key features and a link to its carrier's website. A notice says under the devices, "Activate your device and get discounts worth more than $25!" There's no word on what phones Blockbuster will sell at its retail locations or when it will start.
Blockbuster, maimed due to the rise of Netflix, was acquired by Dish a few years ago. Soon after taking over the company, Dish closed hundreds of Blockbuster stores, taking the total count from about 1700 to 850. This represents only a small fraction of the empire that used to be Blockbuster, which, eight years ago, offered approximately 9000 brick-and-mortar stores.
In an effort to stay above water, Blockbuster began offering an online DVD rental program similar to Netflix. It is now a base where Dish hocks its satellite TV subscriptions, and, presumably, where it will advertise its planned wireless service alongside the phones it will begin selling. The company's chairman Charlie Ergen revealed in October that Dish plans to use Blockbuster to sell phones and unveil its wireless service, which is currently on hold pending instructions from the FCC.
[via Bloomberg]