Blockbuster dares you to drop them, no kidding.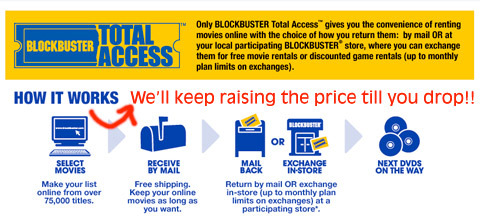 I just received an official notice from Blockbuster Total Access that my next subscription fee will increase from $24.99 to $34.99. That's the 2nd raise in a short 5 months!! $34.99 for 3 DVD out where Netflix going rate is only $16.99. I don't know about you but that sucks big time and I canceled the subscription right away. GO NETFLIX.
To continue to bring you the unmatched convenience of both online and in-store DVD rentals, your monthly subscription fee will change from $24.99 to $34.99. This adjustment† will go into effect on your next billing cycle on or after December 27, 2007. The benefits of your subscription plan will remain the same.