Blizzard China Leaks Five Year Plan, Manager Resigns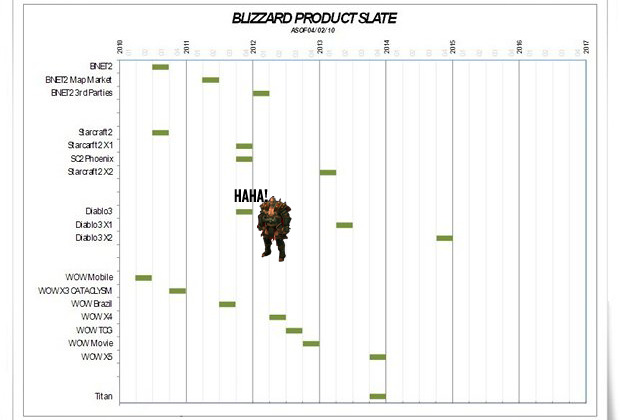 Oh dear me, looks like someone screwed up somehow or another. A five year plan for the future of Blizzard Entertainment has been leaked in China, Blizzard China's manager Ye Weilun is looking to be held responsible, he resigning quietly as Dai Jinhe (aka Alex Tai) takes over. This "Blizzard Product Slate" includes release dates for 18 products or events, including but not limited to: a World of Warcraft movie, a new possible MMO called Titan, Starcraft 2 Phoenix, and Diablo 3 (plus two expansions!) We are sad for Weilun, but extremely pumped up about Diablo 3 being released fourth quarter of 2011. Hopefully the dates stick!
Along with the DIII release in Q4 of 2011 you'll see the next WoW expansion set for 2012 and the WoW movie and "Titan" set for release at the end of 2013. Over at MMOGameSite, they mention "Blizzard headquarter office went berserk at the mention of the News "Blizzard Product slate leaked" and have ordered thorough investigations on the leak incident." More than likely this means more than one person's gonna get the barbarian axe to their career – I'd be cowering in the corner about now.
[Via GamesRadar]