A PR agency that handles CollegeHumor, OkCupid, the Daily Beast, Vimeo and other high-profile web properties has "parted ways with" a corporate communications officer over a tweet deemed offensive by the company and some of the grassroots public. The tweet came from one Justine Sacco's personal account, not a company account. It informed her followers that she was about to fly to Africa, commented on the AIDS epidemic on that continent — and implied that she thought her being white inoculated her against the deadly disease.
IAC, or InterActiveCorp., didn't specify in its announcement today whether the parting of ways was a firing or a forced voluntary resignation. On Friday Sacco tweeted to her 200 followers, "Going to Africa. Hope I don't get AIDS. Just kidding. I'm white!"
Whatever the intention of the tweet — serious, satirical a la Louis C.K., or otherwise — it was retweeted numerous times, enough to elicit a broad public outcry. About 24 hours later, Sacco is no longer with IAC. The company's public response today called the tweet "offensive" and "hateful", assuring readers the company takes her tweet "very seriously". Yet the company also appealed to readers' "forgiving human spirit" and urged against "the wholesale condemnation of an individual who we have otherwise known to be a decent person at core."
IAC handles some big names in the online sphere. In addition to the names dropped in the lede of this post, the company does PR for About.com, Ask, Dictionary.com, Match.com, Urbanspoon, and more.
Most notably in light of this story, the company appears to represent BlackPeopleMeet.com, a matchmaking website for African-Americans. That site's logo currently appears on the IAC homepage (see below). However, as of right this instant, BlackPeopleMeet.com does not appear in any of IAC's public client lists (see below that). It is not known at this time whether the discrepancy is related to Sacco's tweet and the subsequent fallout.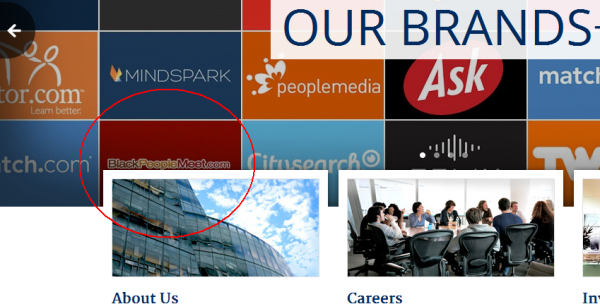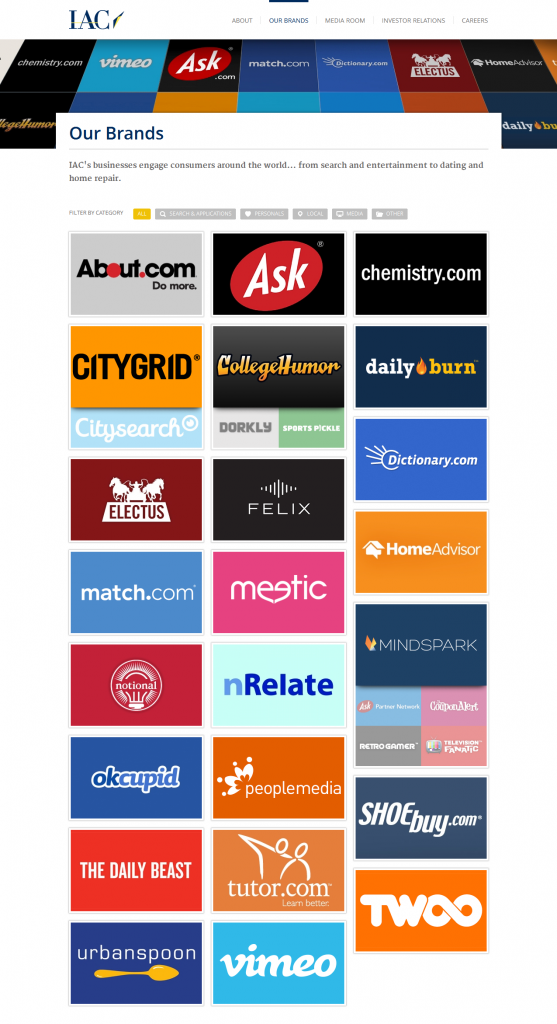 Sacco's tweet and fallout come at a time when reality TV figure Phil Robertson is also in the public eye for comments deemed by some to be offensive and hateful. In a recent interview with GQ Magazine, Robertson had answered the question "What, in your mind, is sinful?" with a comment stating that he feels homosexuality is sinful. His show Duck Dynasty's host company A&E suspended Robertson soon after the GQ article was published.
Do you think IAC handled this the right way? Do you think it will result in a change in business flow for the PR power house?
SOURCE: The Wrap