Blackmagic URSA Mini Pro 4.6K G2 detailed: 300fps, 4K DCI, $6k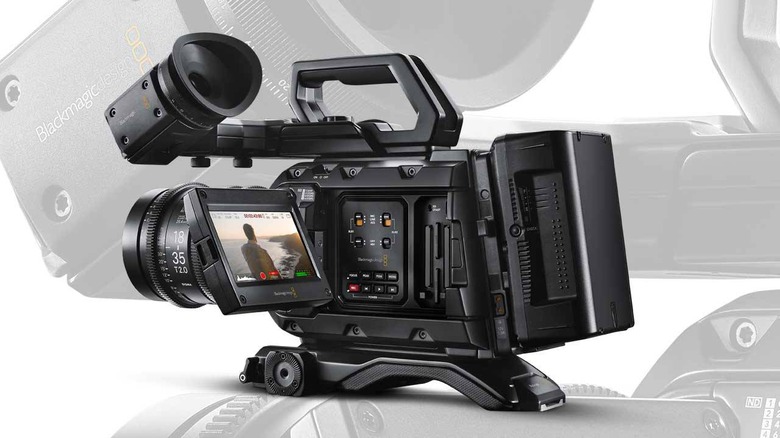 The Blackmagic URSA Mini PRO 4.6K G2 was revealed and released today with an improved set of features over its predecessor. This device is what its creators call a "dramatic advancement" over its predecessor for its processing speed alone. This camera was released this morning for approximately $6 at resellers around the world.
The Blackmagic URSA Mini Pro 4.6K G2 includes a Super 35mm 4.6K image sensor inside. This sensor rolls with what the company called "Blackmagic Design Generation 4 Color Science" – which I assume is something that warlocks do to take really nice video for magical documentary-type projects. This sensor has 15 stops of dynamic range that allow super speedy shooting at up to 300 frames per second.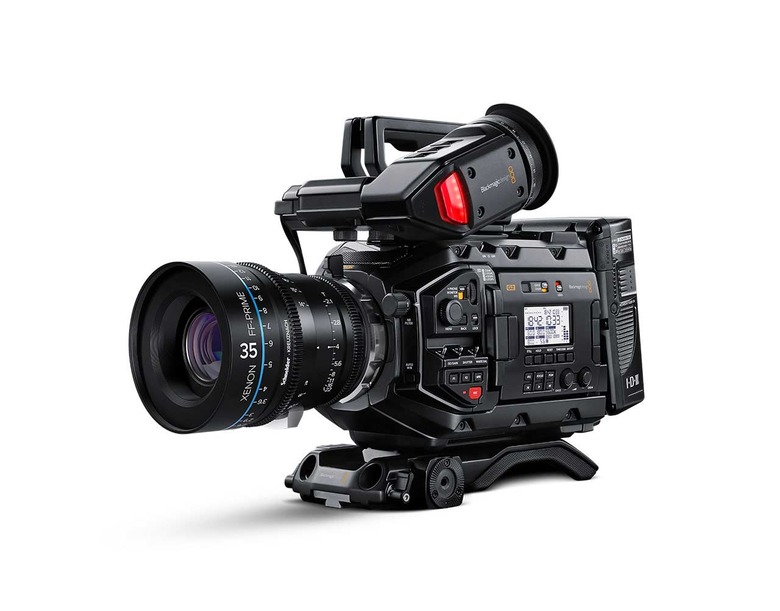 The sensor captures up to 4608 x 2592 pixels at up to 3200 ISO. Full sensor 4.6K images can be captured up to 120fps, windows 4K DCI can be captured up to 150fps, and windows 1080 HD can be captured at the full 300fps.
There's a 4-inch foldout touchscreen on the left side of the URSA Mini Pro 4.6K G2 camera, made for both monitoring and access of menu options. On the side of the camera there's an LCD status display with readouts of timecode, lens and shutter settings, battery level, audio levels, and recording status.
File support is included for Blackmagic RAW files in Constant Bitrate 3:1, 5:1, 8:1 and 12:1 or Constant Quality Q0 and Q5 as well. Also supported is ProRes 4444 XQ, ProRes 4444, ProRes 422 HQ, ProRes 422, ProRes 422 LT, ProRes 422 Proxy recording at 4.6K, 4K, Ultra HD, and HD resolutions.
This camera has an EF mount standard interchangeable lens mount system in effect, with optional mounts available: PL, B4, and F. Each of these alternate lens mounts are shown above, attached to the camera's most basic body. Also included is a standard 12 pin Hirose lens control connector.
USB-C is included on this camera in the form of a USB-C port. With this port, users can record video as long as their connected SSD will allow for space. Now, imagine if all cameras had that same ability. Wouldn't that be nice? You can control this camera via Bluetooth with an iPad, too, as shown below.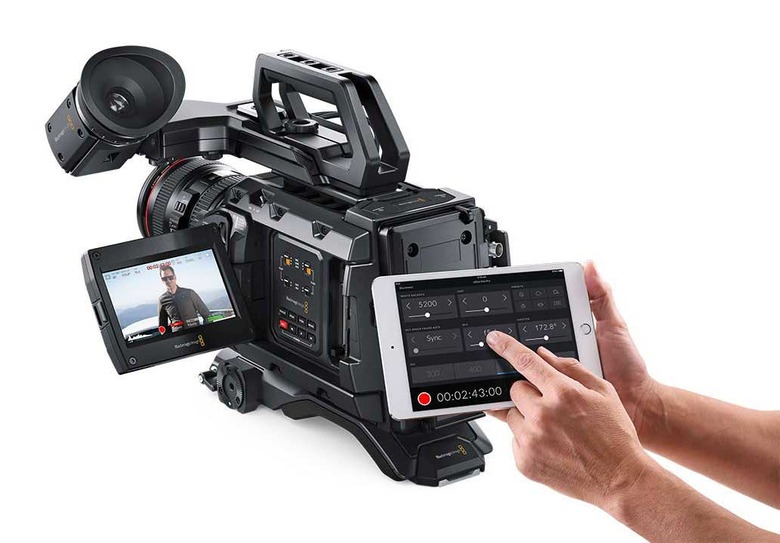 Also available for data storage is a pair of C-Fast 2.0 recorders and a pair of SD UHS-II card recorders. There's a pair of slots for both sorts of media storage, and hot-swapping is allowed. Ports include dual XLR mic/line audio inputs with phantom power and 12G-SDI output for monitoring. Also in the mix are a separate XLR 4 pin power output for viewfinder power, a standard headphone jack, LANC remote control, and a standard 4 pin 12V DC power connection.
This camera is available starting this week for approximately $6,000 USD wherever Blackmagic cameras are resold. Users will get the camera as well as a full copy of DaVinci Resolve software color grading and editing software.
Several optional mounts are available as well, right out the gate. The URSA Mini Pro PL lens mount is out for $245, the optional F lens mount is priced at $375, and the URSA Mini Pro B4 HD lens mount costs $385. The URSA Mini Pro comes with an EF lens mount included – but should you need a replacement, they'll ring in at $175.
All details included above were sourced from official Blackmagic documents released this morning, March 5th, 2019.
[Updated to correct a date]