Blackmagic eGPU Pro makes many Macs more powerful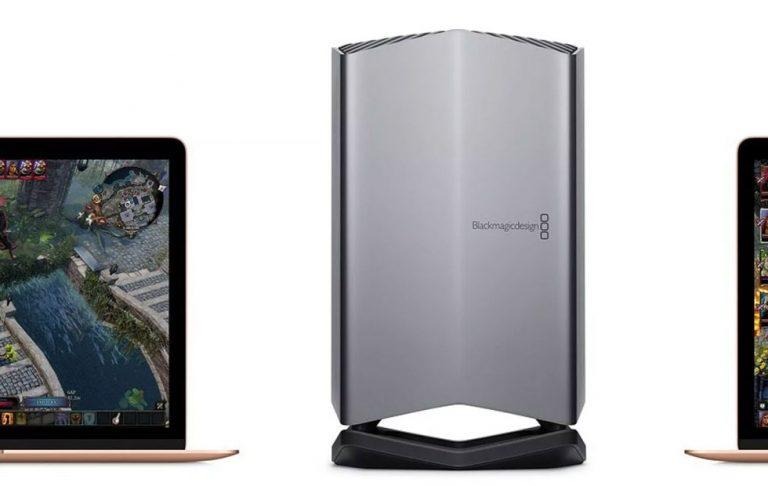 The new Blackmagic eGPU Pro was revealed today, aiming to lend AMD graphics power to a number of new Apple computers using Thunderbolt 3 (USB-C). This product is unique in its execution and presentation. While it's a Blackmagic-branded device, it was "designed in collaboration with Apple." This eGPU device will be available straight through Apple Stores and Apple dot com.
This unit works with two Thunderbolt 3 ports, four USB 3 ports, one HDMI 2.0 port, and one DisplayPort 1.4. There's a power cord connector at the back, and the device turns around and delivers 85 watts of power to devices through its other ports. As such, you can use this to give both graphics processing power and electrical power to a MacBook at the same time.
This new Blackmagic eGPU Pro comes with an AMD Radeon RX Vega 56 graphics processor with 8GB of HBM2 memory. This eGPU Pro weighs in at 9.92 pounds. It'll measure in at 6.96 inches wide, 6.96 inches long, and its approximate height is right around 11.59 inches. There's a single power cable in the box with the eGPU and a single 1.64-foot Thunderbolt 3 cable.
The Blackmagic eGPU Pro will be made available through Apple dot com for US$1,199 starting in November. It's a good bet we'll see this unit in "late November" rather than right away at the start. This eGPU MAY be available elsewhere, but for now that's the only guaranteed, officially announced location to buy – Apple dot com, Apple's online store.
Users that wish to take advantage of the original Blackmagic eGPU can still do so, for now. That original Blackmagic eGPU can be found for right around $700 USD with a Radeon Pro 580 GPU and 8GB of GDDR5 inside. Consider the extra $500 an investment in your podcast video documentary's future.