Blackline GPS Snitch Review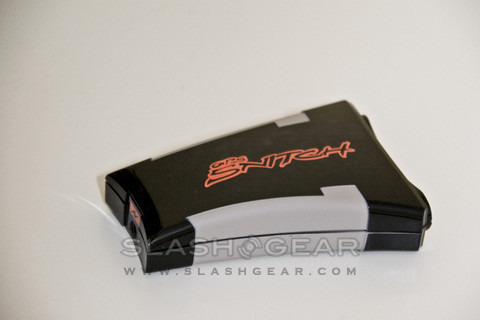 You don't have to be obsessive or a control-freak to want GPS tracking for your car: anybody with vaguely decent wheels who worries about theft has a vested interest in knowing that it's stayed where they left it. Those, too, with teenage children could be excused for wanting to keep an eye on where they're going and when. To those people, and more, Blackline offer the GPS Snitch, a compact, battery-powered tracking unit that allows remote monitoring through an online interface. SlashGear borrowed the car without asking our Mom first to see how well it works.
The Snitch unit itself is less than 4.5-inches long and surprisingly curvy for something intended to be discretely hidden away. On-device controls are minimal, with only a power button and 'Arm' button on the right-hand side, together with their indicator LEDs, and the power socket on the left-hand side. The Snitch's non-user-replaceable Li-polymer battery takes 4-6hrs to charge and offers 5-7 days "typical use". Both a 12v cigarette charger cable and hard-wiring kit are available, though not included in the box.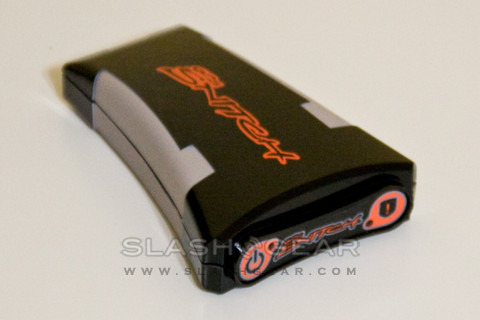 What you do get is the GPS Snitch itself, a wall charger, quick-start guide and two window stickers (to alert would-be car thieves that the vehicle is GPS protected). Build quality is fair, with decent plastics but we would prefer to see more solid construction.
Unlike many GPS navigation devices, the GPS receiver Blackline use is capable of working even when in the trunk or buried under shopping. For longer-term tracking, Blackline recommend hard-wiring the GPS Snitch or at least using the optional power cable. Not only will you be free of battery dependence, but when externally powered the Snitch automatically boosts its GPS reception for faster acquisition times, more tenacious signal holding and better accuracy. The 12v cigarette charger cable is priced at $34.99 while the hard-wiring kit is $14.99.
Since this is basically a GPS device hooked up to a cellphone, there's a monthly service fee (and $29.95 activation fee) along with the initial outlay. Blackline offer a range of plans, each with a different number of included "tracking credits". Think of these as bundled text messages with your regular cellphone; a credit is required every time you query the GPS Snitch's location. Pricing starts from $14.99 a month for US and Canadian coverage, which gets you 50 credits, and rise to $25.99 a month with 500 credits. Alternatively there's an annual plan, at $169.99 a year, with 1,000 credits.
Unused credits roll-over month to month; there's also the option to buy booster credit packs, from as few as 30 to as many as 1,000 at a time. Unsurprisingly they're cheaper the more you buy – $0.10 each for 30, versus $0.05 each for 1,000 – but they expire 90 days after purchase unless you top-up again.
Figure on crunching through more than you'd initially imagine, however; just about everything you do with the GPS Snitch demands a tracking credit. Powering up takes a physical press of the button, but after that all the functions can be controlled either via the web interface or using SMS text messages from your cellphone (which must be registered with the system beforehand; you can authorize two handsets). Blackline offer several different ways to use the GPS Snitch, depending on your tracking intent.
The cheapest way to use it is to manually query for a position. The online interface is built around Google Maps, with the usual zoom, satellite imagery and hybrid modes. A single locate command requires a single tracking credit, and you're given position, speed and direction together with exact coordinates, GPS and GSM signal strength, positioning accuracy and battery level. Data, once recorded, can be loaded into Google Earth, and free guest accounts can be registered and invited to view tracking data. Pressing the 'Arm' button on the Snitch (or arming it either through the site or via a text message) causes the device's internal motion sensor to send out an alert if it feels any movement. You can specify whether to receive that update as an SMS or an email, as well as set a "pet mode" which ignores the rocking motions caused by an animal in the vehicle and only reacts to driving movement.
If you're feeling rich, "Continuous Tracking" instructs the Snitch to send out updates as fast as it can, which in practice means once every 20-30 seconds. On the basic $15 plan, then, you'll burn through your inclusive tracking credits in less than twenty minutes. The middle-ground between continuous and manual modes is "Scheduled Tracking", where you can set a period within which the Snitch is active (e.g. between 9am and 5pm on Monday) and how frequently it sends out location updates (measured in minutes). You can name individual schedules but there's no apparent option to set up repeat, recurring schedules. Alternatively, a Perimeter Alert Auto-Tracking" setting automatically sends out location updates every five minutes for a 2hr period, if the Snitch crosses over a pre-defined geographical perimeter. This proved tricky to set up, however.
In use, we were impressed with the GPS Snitch's accuracy, particularly when hidden inside the car with no direct line of sight to the sky. Continuous tracking is entertaining but financially ruinous, and we generally used scheduled updates and occassional manually-triggered updates. The motion sensor is useful, but it only sends out an alert, not a location update; that, then, costs you another tracking credit. We'd also like to see the Snitch send alerts if preset speeds are exceeded.
The Blackline GPS Snitch is flexible and, technically, very proficient. Whether you're looking for a way to track your teenagers or your company vans, it's a relatively straightforward way to do so. However the cost of tracking, while contract free, is expensive, and using the Snitch to the most of its abilities would soon add up. Temper your urge for real-time tracking, however, and it's a great way to monitor your car and the people using it.