BlackBerry Z30 outed in leaked hands-on video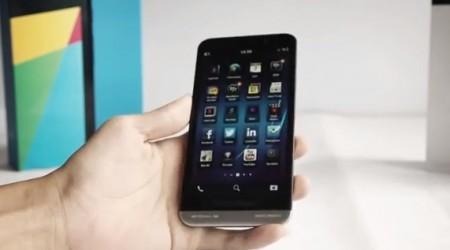 We've been hearing a lot about BlackBerry's rumored A10, which has recently been dubbed the Z30 after getting an unofficial name change. We've seen photos of the new device, but a hands-on video of the device has been leaked, and it marks the latest time that we're seeing the Z30 in all its glory inside moving pictures.
The video comes from Channel S, and while the walkthrough is spoken in Vietnamese, we still get a good sense of what to look forward to when the Z30 officially breaks cover and comes to the market. Overall, it looks slightly similar to the Z10, if not a bit larger, but the silver trim truly gives the phone a unique look apart from past BlackBerry devices.
The Z30 is said to come with a 5-inch AMOLED display with a 720p resolution, and an 8-megapixel camera on the back. On the inside, the phone is expected to rock a dual-core Qualcomm Snapdragon S4 Pro processor with 2GB of RAM and 16GB of storage. It's certainly nothing too surprising and isn't anything groundbreaking, but we'd say BlackBerry loyalists will get a kick out of the new phone.
The video also reveals an AT&T logo on the back, suggesting that the phone will launch on Ma Bell, which isn't too surprising, but we should be seeing more carriers get the phone as well. There's obviously no release date set in stone, but the phone is expected to arrive sometime in the fall.
We've already seen the Z30 stacked up against the Z10 size-wise, and the Z30 looks be a bit larger than the Z10, which isn't too surprising, and that leaves room for an extra row of apps on the screen, just like the iPhone 5 compared to previous generations.
VIA: Engadget