BlackBerry Z10 leaks for Verizon and AT&T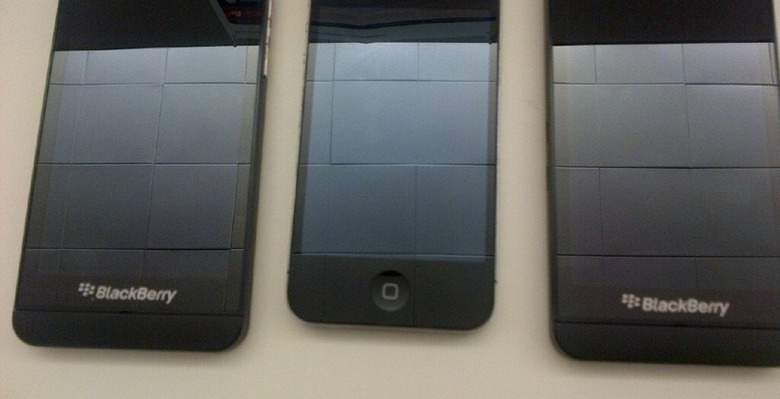 A photo has been leaked today of the next-generation RIM-made BlackBerry 10 device by the name of BlackBerry Z10, a machine that's set to run an all-touch version of the mobile software coming out later this month. These handsets are said by the source to be in testing mode and that one is being carried by Verizon (scope the branding in the upper left) and the other is being carried by AT&T.
The source is a device tester (not from the press, we must assume) who has provided the image to Business Inside who also quote him listing a selection of features from the phone. This machine looks to be appearing on either carrier with essentially the same size and shape, this ringing true with our prediction that we're going to see a lot more Hero Device strategy in 2013 – read our Android Predictions for 2013 as well for some spooky similarities.
"• The build quality is really nice. The back cover feels rubbery and snaps on sort of like the back cover on Samsung's Galaxy S III.

• The screen looks great.

• The web browser is very quick, just as fast as a desktop browser. It also supports Flash.

• You can set up separate profiles for work and personal use. This is good for people who want to use one phone for business and play.

• It integrates with Evernote.

• The new AppWorld store looks a lot like the Google Play store for Android apps.

• It only takes one minute to boot up." – Anon
The source above appears to confirm several points that we'd heard from other sources in the past, including Evernote integration and that the build quality of the phone itself is rather high. We're of course looking forward to there being a removable battery (as all good action-based phones should have) as well as a build quality that's just as great as past BlackBerry devices – or better.
These machines will be revealed later this month at the BlackBerry event on the 30th, we'll be there right in the front row for those of you getting pumped up for the big BlackBerry 10 launch and RIM's next era! Let us know what you expect to see!