BlackBerry Storm OS 4.7.0.83 leaks: faster, camera boost, more responsive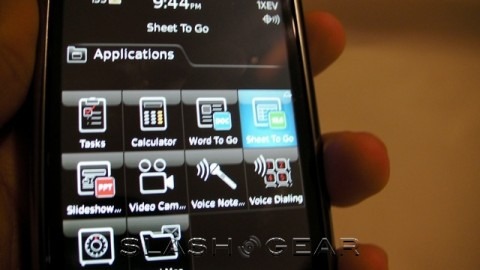 If your BlackBerry Storm is still misbehaving then you might want to treat it to another dose of leaked firmware.  This time around it's version 4.7.0.83 and comes courtesy of the Crackberry forums.  Preliminary changes seem to suggest that the handset responds faster, with both applications loading and closing faster and the on-screen keyboard doing a better job of keeping up with typing.  Browser rendering is also reportedly faster, with one user suggesting that some sites loaded in a third of the time they used to.
Video demo and more first impressions after the cut
Forum member dmglakewood did a fresh install on his Storm and noted the following changes:
-Starting Memory 48.5 -Portrait to landscape, very quick ½ second if that to flip. -Camera quality seems much improved -Camera speed still laggy it may be a little faster but I don't think so -Exiting programs seems a lot snappier. Before my phone would kind of lag when exiting a program back to the homescreen. -Music/Media player, doesn't have the hiccups but I haven't used it too much just yet. -Keyboard – WOW that's all I can really say. The keyboard can actually keep up with my fingers now -Browser – Well I only have 1 bar right now, but the browser is a lot faster. I'm not sure what they did to it but mobile sites and google are almost instant. I also went to Yahoo Sports a page I view a lot on my storm and I would say it loaded up in 1/3 the time it usually takes.
Other suggest that the accelerometer is faster (though some users report it's actually slower than before in the home screen) but that now the Storm can sometimes miss clicks in the corners of the display.  Of course, as an unofficial leak you try firmware 4.7.0.83 at your own risk; installing it could affect your handset's warranty or even break it altogether. 
[via Crackberry]