BlackBerry Storm for Verizon review part 2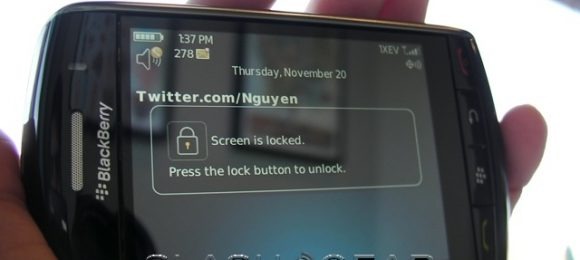 In part one of our Verizon Wireless BlackBerry Storm 9530 review we looked at the hardware – including the unique touchscreen – the preinstalled software and our initial impressions, together with some preliminary battery feedback.  Now, in part two, we'll look at media performance, the camera and GPS, web browsing on the Storm and call quality.  Read on for all the details – plus our final conclusion.
Considering the Storm's impressive display, it would be criminal for media performance to fall short.  Here, thankfully, RIM have delivered the necessary goods: audio quality is excellent, both through the standard 3.5mm headphone socket and – more surprisingly – through the very clear speaker, while video playback is every bit as smooth and color-rich as you'd hope.  Verizon bundle the smartphone with an 8GB microSD card (the Storm can take up to 16GB cards) and hooking up to a PC or Mac via USB lets you drag & drop tracks and clips across.  Alternatively, install the included Desktop Manager software and BlackBerry Media Sync will suck the files out of iTunes and into the Storm.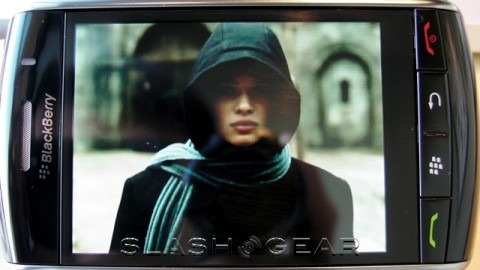 That is, as long as they're DRM-free (i.e. not actually bought from the iTunes store): unfortunately the list of compatible files does not include any DRM-protected tracks.  The Storm plays MP3, AAC, AAC+, eAAC+, WMA and WMA ProPlus audio files and MPEG4, H.263, MPEG4 Part 2 Simple Profile, H.264 (encoding and decoding 30 fps) and WMV video files, but so far only Rhapsody to Go subscription tracks can be loaded and played successfully.  We're expecting Verizon to update the Storm with V CAST Music and Video soon, which should give users more media opportunities (and more opportunities to spend money, of course).
Images and video are a strange mixture of the successful and the lacking.  RIM have obviously given some thought to the browsing interface and how best to tailor it to finger-control, but regular delays in the photos actually loading meant I've spent more time twiddling my thumbs than thumbing through galleries.  It's frustrating, because picture quality from the 3.2-megapixel camera is very good.  Once you get past the slow autofocus – this is not the device for taking action shots with – color reproduction and sharpness were both impressive.  I'd actually rate the Storm's camera as better than the 5-megapixel one on the HTC Touch HD.  The flash has mixed results, being inevitably weaker than what you'd find on even the most basic of point & shoot cameras.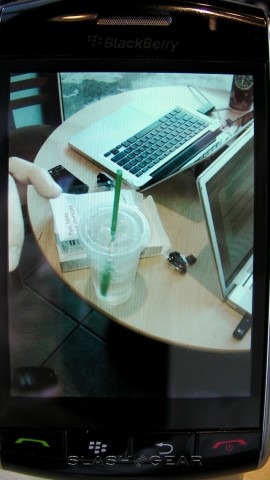 It's video recording that lets the Storm down when it comes to imaging, and there's a very good chance that it could be an early software issue.  Right now it's hit and miss to get an in-focus shot, one that doesn't break up on panning, or even one that correctly saves at all.
Navigation takes advantage both of the Storm's GPS chip and assisted GPS (A-GPS) whereby triangulation from the cellular network is used to speed the hotfix.  You're spoilt for choice as to apps – VZ Navigator, BlackBerry Maps and, a quick download, Google Maps – but none of them particularly shine.  Of the three, VZ Navigator works best and has the most functionality (here RIM's own app falls particularly flat) including live traffic updates, spoken directions and local search, but then you're also paying $8.99 a month for it.  Google Maps offers the same routing, search and traffic options, but lacks spoken directions.  In our (admittedly limited) testing with the Storm, GPS accuracy seemed good.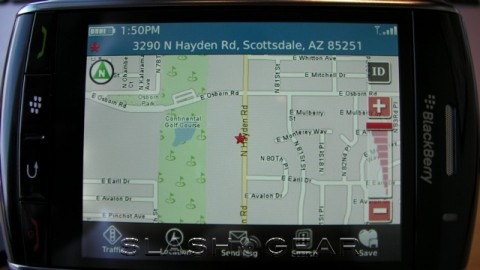 Browsing on the Storm is, by virtue of the touchscreen, better than it is on the Bold.  Considering we described the Bold as the best internet browsing device RIM have made, that instantly slots the Storm in at the top of their chart.  However, compared to other devices – not just the iPhone, either – the RIM browser is patchy and prone to either slowly, incorrectly or simply not rendering pages at all.  The UI feels partially cooked too, with the absence of kinetic scrolling (where you flick the page around, and it continues to move afterward) and lack of pinch-gesture zooming both bizarre omissions.  What that adds up to is a browser that can make panning around pages slow, both from rendering and from physically scrolling.  Opera, the webkit-based Android G1 browser, or the iPhone's Safari all do a far better job of making mobile surfing appealing.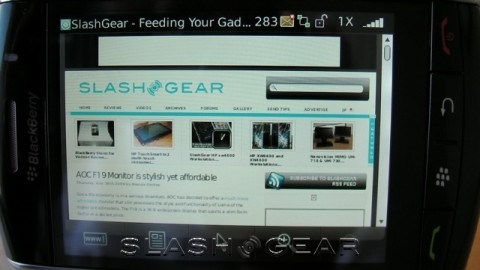 Call quality, thankfully, is excellent.  In fact someone might need to talk to the Storm about underselling itself: the signal meter seems reluctant to indicate beyond 3-4 bars much of the time, but I had no voice calls that were anything other than crisp and clear.  Performance with a Bluetooth headset was similarly good, and the speakerphone was so loud I needed to turn it down a few notches.  While on a call you can access all of the usual apps, but the data connection is put on hold; whether that is an issue for you depends on how often you surf while chatting, but it could grow to be a significant frustration if you're using the Storm as a tethered modem with your laptop.
My primary concern about the Storm remains the display – or, more accurately, the "SurePress" technology.  Battery life (which is still too early to call; we'll update with our findings after using the Storm a while longer) and occasionally lagging or glitchy software can hopefully be tweaked into satisfaction with a firmware update, and word on the street is that RIM is already planning the first.
What no software update can change is the physical interface and, while it's certainly innovative, I'm not entirely sure it's necessary.  A straight capacitive touchscreen is, frankly, enough: the SurePress system is simply too tiring over extended use and still not as accurate as hardware buttons would be.  Couple it to the slightly brainless auto-correction and you have a BlackBerry that, actually, isn't really all that hot at hardcore messaging.
I'm also finding it tricky to forgive Verizon and RIM for the absence of WiFi.  Yes, the carrier's data network is pretty pervasive, but we're not talking blanket coverage and there are plenty of times – in the office, for instance, or at home – where it would make far more sense to use a faster broadband connection via WiFi.  Similarly, cutting the Storm off at dualband HSDPA rather than the more complete triband smacks of unnecessary bitterness toward those who would readily pay Verizon the full cost for an unsubsidized handset and use it on a different network.
It only seems fair to consider the BlackBerry Storm on two levels: as RIM's first touchscreen device, and as a rival among the rest of the smartphone crowd.  With the former, the Storm marks a noticeable change of direction for RIM.  SurePress is a neat trick, but it's neither as touch-intuitive as the iPhone's display nor as messaging-accurate as the BlackBerry Bold's hardware keyboard.  Where the Storm actually shines, in fact, is, as a media device, and I certainly won't tire of its video playback performance.  A better browser and more mature gestures and you'd have a pretty clean sweep.
Among the rest of the current smartphone crowd, and the BlackBerry Storm becomes trickier to justify.  Without the excellent hardware keyboard of the Bold – and the lackluster SurePress performance – it's tricky to identify its niche.  Software that feels slightly flaky around the edges is just another black mark.  I had high hopes for the Storm, and in a way I still do since firmware updates could make a world of difference, but in its present state it sadly falls short.
BlackBerry Storm poor performance video
[rating:2.0/5]
I started off with a rating of 3 out of 5 gears, and then dropped it down to a 2.5. But after all the performance issues I've experienced today, I'm sad to say that the Storm now rates at 2 out 5 gears. Since RIM is on top of things and working on fixes for these issues, I'll revisit the rating in the future. That being said, I cannot in good conscience recommend the Storm as it currently stands.