BlackBerry Roadmap Leaked [Feb 2011 Through Dec 2012] [Software] [BB OS 7.0!]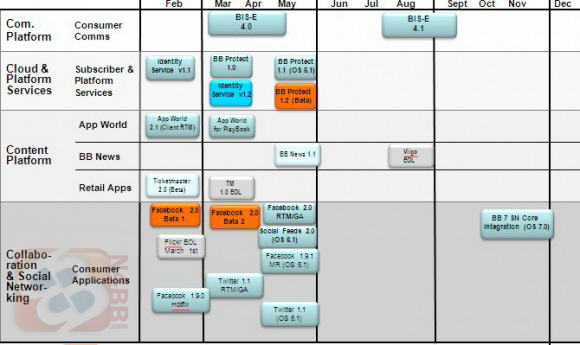 Well would you take a look at that! What we've got here is nothing less than a full roadmap of the more important software updates planned by RIM for their BlackBerry platform. Inside you'll see several versions of Facebook, Social Feeds, Flickr, Twitter, and even the next big fat version of BlackBerry OS: QNX, more than likely OS 7.0! In addition to the roadmap you see directly below this paragraph, we've got a few more one-sheets including a "BlackBerry News," one for Ticketmaster v2.0, and another for Social Feeds. All of these items come courtesy of our friends at n4bb.
Inside 2011 if these maps and documents are true, we'll be seeing BIS (BlackBerry Internet Service) 4.0 around March or April and BIS 4.1 starting in August or September. Next, take a peek at how BlackBerry fans can look forward to Facebook 2.0 beta 1 and beta 2 coming as soon as February, and Twitter 1.1 between March and June, and an End of Life (EOL) for Viigo in August and Flickr in February — note, this has already happened. App World for BlackBerry PlayBook will be released in March, BlackBerry Protect 1.1 and 1.2 will be updated in March and May, Identity Service v1.2 in March, and Social Feeds 2.0 for OS 6.1 in late April.
After that you'll see integration of BlackBerry OS 7.0 starting near the end of November 2011. At the moment we have basically no idea whether 7.0 will be an update of 6.1 or if it'll only be rolled out on brand new devices near the end of the year with updates to older devices coming throughout 2012. The word "Integration" is included in the update block – does this point toward the OS still being in a developmental state at that block's time, or does Integration mean working the OS into already released devices?
Take a look in the gallery below for a slightly larger-sized version of the map as well as a few sheets on other similar topics.
[via n4bb]