BlackBerry PlayBook prices drop by $200 in the US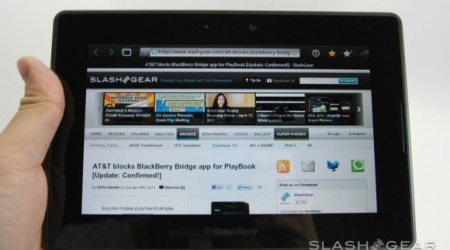 Following RIM's disappointing Q2 performance, the company promised to drop prices for its BlackBerry PlayBook in an effort to boost sales. And indeed RIM has dropped the price for the tablet by about $200, but the discount is only temporary. The deal is available now for all versions of the PlayBook, including the 16GB, 32GB, and 64GB models and is offered by Office Depot and Staples until October 1.
The discount for the BlackBerry PlayBook for both Office Depot and Staples involves an immediate $100 discount. You can get an additional $100 gift card with your purchase at Office Depot or you can get an additional $100 rebate at Staples. So, altogether, the discount amounts to be $200.
The BlackBerry PlayBook launched back in April, facing immediate criticism for its half-baked firmware. In an attempt to rush the tablet out to market, RIM had not completed native apps for basic functions such as email, calendar, and contacts, which further hindered adoption among its already diminishing user base.
RIM has only shipped 200,000 units of the tablet, which is embarrassingly lower than even the company's own conservative estimates. There have been several other promotions on the tablet in recent months, but that hasn't seemed to generate much excitement for the slate. Hopefully, sales will improve with the PlayBook 2.0 update that will bring in the missing features as well as the long promised Android app player in time for the holiday season.
[via CNET]