BlackBerry PlayBook OS 2.0 launches Feburary 21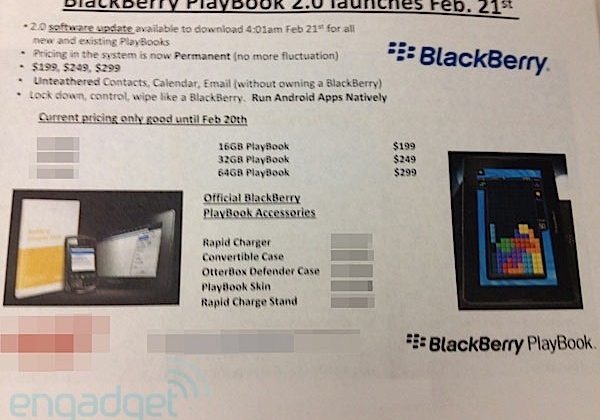 The much delayed updated to RIM's BlackBerry PlayBook seems confirmed for release on February 21, if internal marketing docs obtained by Engadget prove to be accurate. The update is expected to show at Mobile World Congress later this month, but now we have a more precise date for anxious PlayBook owners.
According to the leaked documents, PlayBook owners should be able to start downloading the PlayBook OS 2.0 update as soon as next Tuesday. The update is expected to finally bring the long promised native email, contacts, and calendar support that the RIM tablet has been lacking.
The update will also bring an improved BlackBerry Bridge functionality as well as the BlackBerry Runtime for Android Apps that will allow users to run certain Android apps directly on the PlayBook. A deadline was announced late last month calling on developers to prepare the first Android app ports for the PlayBook, to ensure that there would be PlayBook-compatible Android apps ready once the feature gets introduced.