BlackBerry PlayBook demo and hands-on by Mike Lazaridis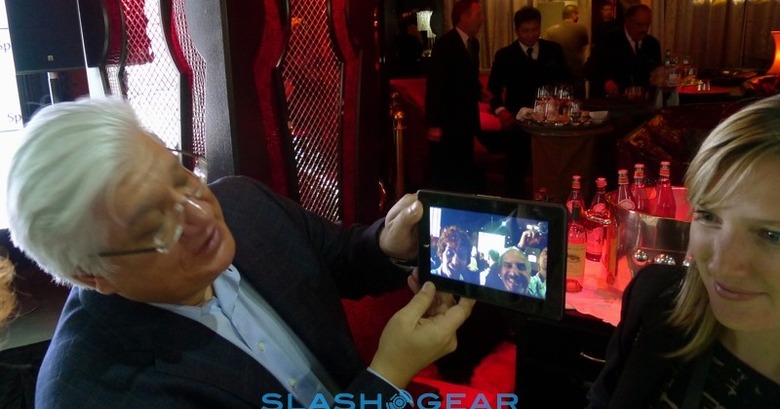 SlashGear scored an invite to Sprint's "Shaking Things Up in 2011" event at CES 2011 this week, and who should we bump into but RIM co-CEO Mike Lazaridis with a BlackBerry PlayBook tablet in-hand. He was good enough to demo the 7-inch QNX slate and answer some questions about it and RIM's new focus on tablet computing; check it out, along with live PlayBook video, after the cut.
As we already knew, the PlayBook has a 7-inch, 1024 x 600 capacitive touchscreen, 1GB of RAM and a dual-core 1GHz processor; RIM still isn't confirming which chip exactly is inside, though they're not holding back from showing how powerful it leaves the PlayBook. The screen itself is bright, clear and has huge viewing angles, while the touchscreen layer – and the capacitive controls built into the bezel, such as the main menu trigger underneath the display – is suitably responsive.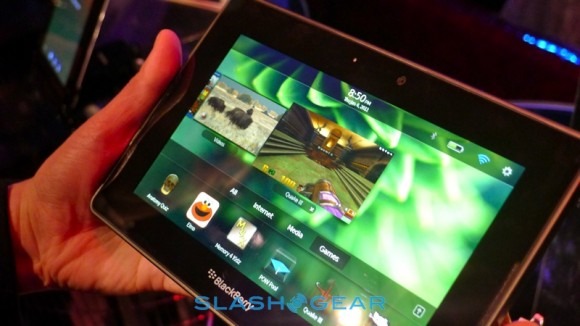 Navigation feels like a mixture between BlackBerry 6 and webOS, with a row of side-swiping icons, sorted into categories like "Internet", "Games" and others, along the bottom of the screen, and large thumbnail previews of live, running apps in a carousel above. The app row can be swiped to pull up all the software installed on the tablet, while running apps themselves can be shut down by flicking them up, as on webOS.
BlackBerry PlayBook:
[vms bc5392effeb8f18fda75]
We had to ask Mike which his favorite feature of the PlayBook was, and he showed us multitasking in real-time: playing an HD video while simultaneously running Quake 3, and both remaining operational at the same time. According to Mike, it's down to user-choice when the system kicks in to shut down background processes; you'll be able to either leave it up to QNX to decide, or force a certain number of apps to keep running simultaneously. He then loaded up three different system-intensive testing apps, including real-time 3D ray tracing, and showed how the PlayBook could run them at the same time with little noticeable impact on system performance.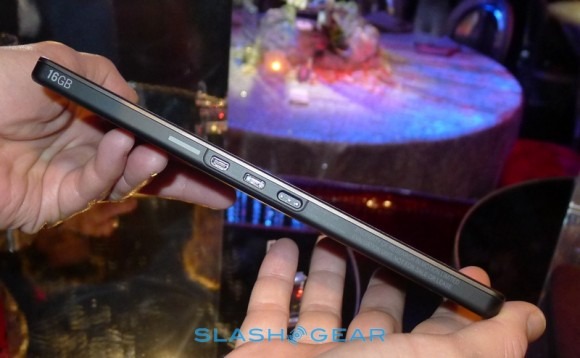 Connectivity, meanwhile, is arguably more flexible than what's on offer from the iPad or the various Android tablets we've seen this week. In addition to the standard WiFi and Bluetooth, Mike pointed out that the PlayBook's USB port on the bottom edge can support ethernet connections with the appropriate adapter; Sprint unsurprisingly had a 4G WiMAX version at the event as well, ahead of its release this coming summer.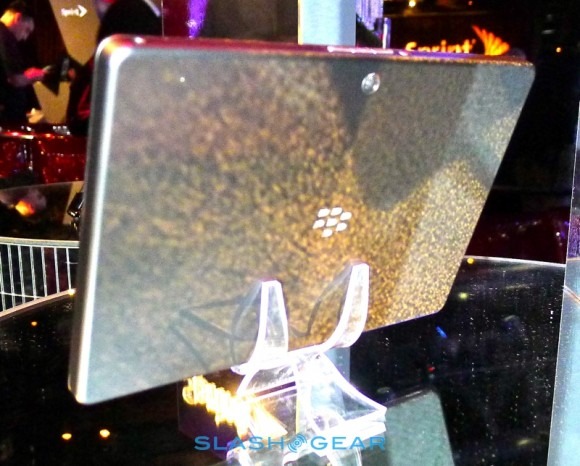 Considering this is still a prototype and RIM are continuing to work on the software, it's already at an impressive stage. Slicker than much of the other hardware we've seen, and sufficiently consistent with BlackBerry handsets that the staunch RIM-faithful shouldn't have too much trouble getting up to speed with it, we're confident the PlayBook will find a place among the tablet influx of 2011. More hands-on shots in the gallery below!