BlackBerry OS 5.0 offers new look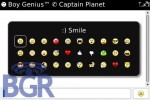 BlackBerry OS 5.0 was recently leaked and the new firmware offers a more modern look for the devices. However, it seems the majority of the changes are in appearance only while the underlying tech remains the same.
The Precision Zen interface has been extended, making for a nicer look on a wider array of menus and screens including messaging. You'll also notice collapsible menus and easier emoticon insertion abilities.
Photo browsing makes more sense now and you can also check the free memory much easier. There is one actual new feature, however, called Files. Files is a file browser that shows hierarchical views of storage and network directories for BlackBerrys on a BlackBerry Enterprise Server. This makes it possible to download files without having to e-mail them to the phone. We're expecting BlackBerry OS 5.0 to be released sometime in May, perhaps at the RIM Wireless Enterprise Symposium.