BlackBerry Neon Android smartphone leaks with mid-range specs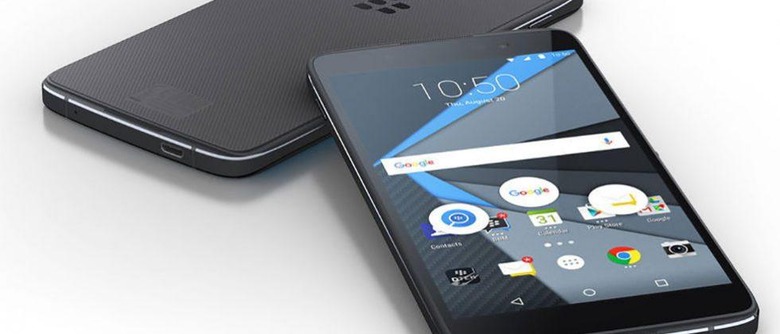 A new image of a BlackBerry Android-powered smartphone has leaked directly from BlackBerry. The device is the BlackBerry Neon (DTEK50) smartphone. The image was gleaned directly off BlackBerry servers after someone hit the go button a bit early on part of the website for the device that will go with its official launch. This will be the second Android device from BlackBerry.
Along with the image came a few hardware details as well. The Neon will use a Snapdragon 617 processor paired with 3GB of RAM. Internal storage will be 16GB and that is expandable up to 2TB with memory cards. The screen is a 5.2-inch unit with 1920 x 1080 resolution. The rear camera is a 13MP unit and the front is an 8MP camera.
Power for the smartphone comes from a 2610 mAh internal battery that can't be removed. The battery does charge faster with Quick Charge 2.0 capability. The smartphone will feature all the BlackBerry software that you would expect from the company, the same stuff that was offered on the Priv. That means BlackBerry Hub, DTEK, Password Keeper, BBM, BlackBerry Calendar, and more. The OS right out of the box is Android Marshmallow. One thing that is unclear is the name, it's still being seen referred to as the Neon and as the DTEK50.
BlackBerry is still hoping that making Android devices can help turn the company around. With the glut of Android devices, this is far from a sure thing for the company. The Neon has been rumored for a while and two other Android devices are tipped to be in the works as well. Neon is expected in July or August, Argon in October, and a device dubbed Mercury in Q1 2017. At least one of those devices is expected to have the famous BlackBerry physical keyboard.
SOURCE: Crackberry