BlackBerry Mercury (Rome) renderings show slick physical keyboard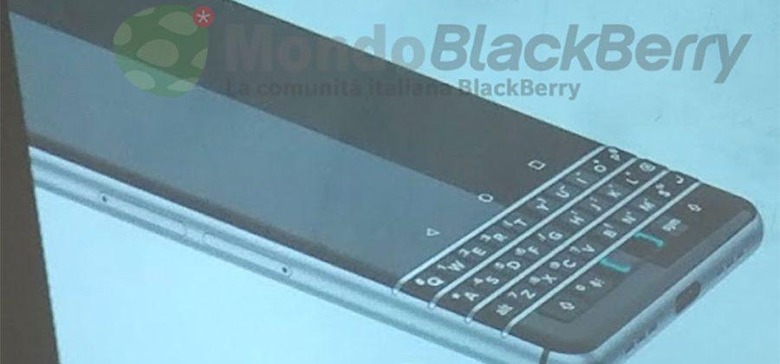 Things aren't going all that well over at BlackBerry in recent years. The company is struggling to design a relevant device that consumers actually want to own. In recent days, BlackBerry CEO John Chen has been hinting that the company is working on some new mid-range phones. One of those phones has now turned up in some renderings and it looks pretty good.
The device in these renderings is said to be the BB Mercury also known by the codename Rome. The renderings show a device that looks very much like the iPhone with the notable exception of a physical keyboard on the bottom. That keyboard doesn't slide in or out of the frame.
The keys are always there, just below the display of the device. The renderings also show a USB Type-C connector and what appears to be dual speaker grills on the bottom of the device. Each row of the keyboard is set apart slightly with metal bands to help with typing comfort and accuracy. There do appear to be some soft keys on the screen as well. Another rendering of the device highlights the front camera while the screen shows fingerprint records indicating that the device has a fingerprint scanner built-in.
Yet another rendering shows the device in black or silver styles. The smartphone looks attractive enough but with Blackberry's history of being unable to attract customers to its devices we have to wonder if this will be enough, assuming these renderings are accurate at all. Most smartphone users moved on long ago from the desire to have a physical keyboard. As always, price is a big factor combined with hardware, at the right price with decent hardware perhaps the Mercury will do well.
SOURCE: Androidworld.it