BlackBerry Gemini 8325 In Wild: EDGE, 2MP, Dull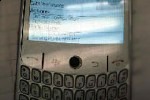 A leaked image of the BlackBerry Gemini 8325 has emerged, together with specs, and it's not exactly setting our hearts aflame.  The unannounced RIM smartphone is believed to be the successor to the BlackBerry Curve, and seemingly takes the DNA of the 8300 and 8900 with the turgid connectivity of quadband GSM/GPRS/EDGE.
Other specs include a full QWERTY keyboard, 2-megapixel camera and 320 x 240 resolution display.  The buttons below the screen appear to use the etched-metal design first seen on the Motorola RAZR and, to our eyes at least, don't particularly suit the BlackBerry profile; there's also a trackball.
The Gemini 8325 is expected to run OS 5.0, and really the only potentially interesting thing about it is the possibility – unconfirmed – that it will support draft-n in among WiFi b/g.  No word on official announcements or launches, nor which carrier might pick up the Gemini.