Blackberry Classic returns, brings old-school charm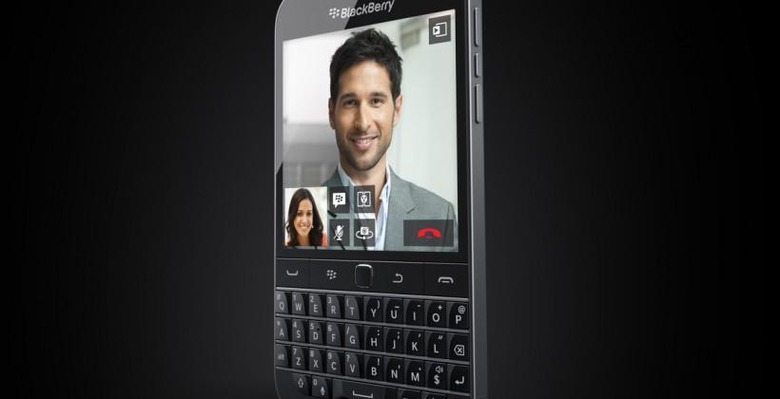 Blackberry is back. Today, the company officially unveils their Classic, an icon in the smartphone world born anew. The updated device takes modern specs and wraps them up in a nice, familiar package geared toward enterprise, though we're sure some enterprising hipsters will snap them up as well. In keeping things business-like, Blackberry is launching their new (?) device with a bundle of enterprise-focussed apps. There are also two enterprise bundles aimed at letting pros work on the go, but securely access their files via VPN.
But hey, the keyboard is back, too.
The device doesn't blindside us; we already noted it was up for pre-order, and shipping around this time. At $449, it's not going to undercut devices like the OnePlus, but competes for the Moto X crowd who may be feeling nostalgic.
If you're an old blackberry holdout, you know what the Classic is all about. There's a touchscreen this time around, but it's not necessary. Blackberry also dusted off their small trackpad for the Classic, bringing their hardware full circle.
For business pros, the Classic will feel retro, but the suite of apps and services are all 2014 and beyond. The Classic also understands that, unlike last time it was relevant, there are other players in the smartphone space. At every turn, Blackberry's suite of apps offer a layer of security when communicating between Android or iOS devices.
You can video chat with BBM Meetings, message with BBM, and remotely log-in using VPN Authentication. Those come via Blackberry's Enterprise Communicator bundle, a $12/month package available to users on all platforms. The availability across platforms suggest Blackberry knows they're more a service provider than a hardware company, now.
Still, apps like Bloomberg LP and Cisco AnyConnect aim to put the Classic in the hands of enterprise customers everywhere. Given all the built-in security and retro-cool of Blackberry, that might happen in a big way this time around.