BlackBerry Bold shows up at CompUSA; crazy expensive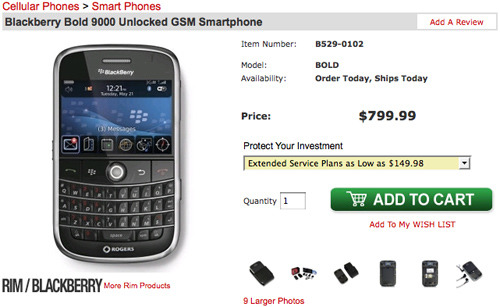 Okay, so we just reported this morning that the BlackBerry Bold was available for pre-order from Best Buy for a whopping $660. And you might have found that to be outrageous. But CompUSA has them beat with a significantly higher price tag.
If you're super desperate for a BlackBerry Bold and for some reason want to pay more money, you can do so from CompUSA for a staggering $799.99. For some, it might be worth it to have an unlocked Bold.
And if you're feeling especially, "bold" (ha-ha), you can add on an extended service plan for $149.98. Interestingly enough, CompUSA says they have the Bold in stock right this moment and that it's available to be shipped today. So, if you're super impatient and can't wait for Best Buy to start shipping or you just can't deal with a contract, you can order up a BlackBerry Bold right this second.