BlackBerry Bold for AT&T Review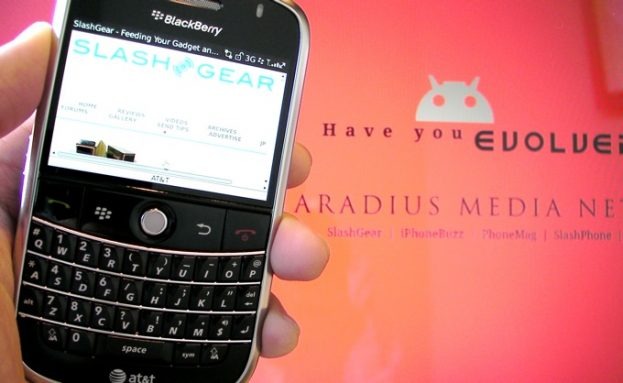 This year has seen two game-changers for RIM, in the shape of the BlackBerry Storm and the BlackBerry Bold.  The former is easier to explain – it's the company's first touchscreen device – but the latter has been more of an evolution for the messaging specialists.  While loved by many, the BlackBerry line-up had been looking progressively more and more bland compared to rivals; with the Bold, RIM have taken the opportunity to give it more than just a slick new casing.
Roughly the same size as the BlackBerry Curve, at 4.5 x 2.6 x 0.6-inches and 4.7oz, the Bold is constructed from sturdy black plastic with slight chrome edging (which has caused critical comparisons to the Apple iPhone but, more accurately, is merely the general trend of the moment) and a somewhat unusual leather-effect back plate.  In the hand it feels solid and flex-free.  RIM regulars waited with baited breath to see how this new 2008 design language would affect the keyboard, and thankfully the BlackBerry DNA hasn't been forgotten; backlit, with firm and quiet action, the QWERTY is a pleasure to use.  The trackball is more of an acquired taste, meanwhile, and you could argue that it still offers no great improvement over a joystick or D-pad.  Still, it's relatively straightforward to use.
Where the Bold obviously stands out is its display, both in terms of the hardware and the new OS.  Measuring 2.6-inches and running at 480 x 320 resolution, it prompts all the superlatives you'd like to hear about a screen: bright, vivid colors with rich saturation and crisp edges.  The top-level menus have been reworked in BlackBerry OS 4.5 with new, more stylized iconography and a more contemporary font.  Die-hards may find the graphics a little harder to decipher at first, but we think new users will prefer the simpler pictures and less "Windows 98" look.
Move further into the menu structure and the reworked design begins to peter out.  Some of the option pages look straight out of older BlackBerries, which is a disappointment.  Thankfully the new font goes a long way to beautify the experience, but we expect RIM will have to further develop the GUI in future iterations of the OS, not least to do justice to the screen.
A BlackBerry is, first and foremost, a messaging device, and most earnest users will first turn to the email client of any new RIM handset.  Here OS 4.5 again works its magic, with HTML support, the ability to view attachments and in-line images.  Much of the rendering is done off-handset on the BlackBerry email servers, and while we say HTML it's not exactly full support.  Still, basic formatting (such as bold, italic and underline) and included images are arguably all you need on a mobile device, and the rendering speed benefits are pleasant.
Attachment handling is courtesy of Documents to Go, from DataViz, offering compatibility with Word, Excel and PowerPoint files.  RTF and PDF files are also supported, though only as attachments, but all can be edited on-device.  The Professional edition of the app, a roughly $70 upgrade, offers spellchecking and advanced formatting options, among other things, but we can't exactly see ourselves doing major editing on any smartphone.
Second, perhaps, to messaging on modern smartphones is the browser, and it's an area where RIM always fell a little short.  The Bold's new browser certainly has a decent stab at catching up, although it will never be as intuitive as on a touchscreen device.  With the trackball used to browse – in either Page View, with horizontal and vertical scrollbars, or Column View, reformatted into one long page – and clicking to zoom in, it's a perfectly serviceable approach, but not one that will draw squeals of joy from iPhone users.  Still, useful tweaks such as a dedicated search box querying Google, Wikipedia and Dictionary.com, together with the more speedy access to bookmarks, mean browsing is no longer the BlackBerry's Achilles heel.
With a screen like the Bold's, poor media functionality would be an unforgivable transgression.  RIM escape major crucifixion by virtue of a broad list of supported video codecs – AVI, MPEG-4, DivX, XviD, WMV and 3GP – and smooth performance from the capable 624MHz Xscale processor.  The audio player is another satisfactory effort, with new abilities to build playlists on-device, together with create auto-playlists based on ID3 tags.  A pleasant surprise is the built-in speaker, which is full-bodied and eminently capable of annoying an entire train carriage of fellow commuters; they'd be happier if you used the standard 3.5mm headset jack.
The camera is another 2-megapixel offering, on paper no different from that of the BlackBerry Curve but in practice, we found the images were sharper and with more accurate colors.  The Bold's GPS can be set to automatically geo-tag each captured image, while saving them – whether to the handset's 1GB of internal memory or to a microSD card – takes less than a second.  You'll not be throwing away your normal digicam, but at least you'll recognize what it is you actually tried to take the photo of.
Connectivity is certainly a strong point for the Bold, with 3G HSDPA good for up to 7.2Mbps (network depending) plus WiFi b/g and Bluetooth.  Thankfully in their beauty makeover RIM haven't thrown out decent call performance, with the Bold proving tenacious with signals other handsets found less viable.  Audio quality is very good, both on the phone itself and via Bluetooth headsets.
Battery, meanwhile, could have been the Bold's undoing.  Regular leaks during its development suggested a device let down by poor power management; thankfully, RIM has obviously addressed it.  A full charge of the 1,500mAh pack is good for a couple of days use, with 3G turned on and only sporadic WiFi access.
Let's get one thing clear: this is RIM's best QWERTY-equipped BlackBerry ever.  Existing BlackBerry owners will find little to disappoint them, and the Bold makes a strong argument for users fresh to the platform.  The snap judgment that everyone tends to be guilty of making is "how does it compare to the iPhone 3G?"; that's a poor comparison, as the two devices are so different.  Where once a BlackBerry was little more than a business tool, in the shape of the Bold it has the ability to let its hair down after hours; decent media performance and attractive software make all the difference.  Leave the Apple battle to the BlackBerry Storm; the Bold is taking on hardware keyboard rivals and it's shining.