Blackberry 7100i - Video Review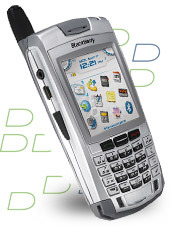 Blackberry technology is well known among mobile professionals. Designed originally to connect remote users with corporate email accounts, this enterprise solution has evolved to provide amazing capability today as the branded by Nextel.
Featuring a large, bright, sunlight-readable 240 x 260 display you'll have a host of tools at your command with the device. The 7100i incorporates email from corporate or personal accounts, SMS text messaging, phone with speakerphone, personal organizer software, web browser, and even a built-in GPS. The Nextel walkie-talkie feature is another plus, allowing you to connect with co-workers with simple push-to-talk connectivity. This feature, new on the Blackberry, has been a powerful tool for Nextel customers in real estate, sales, construction, and many other team based enterprises.
All this comes in a well designed package that's a bit bigger than other smartphones but comfortable and convenient to use. Many features are accessed through a thumbwheel with a push-to-select feature. This is great for fast scrolling through menus and displays which can be awkward on other phone browsers. Spinning the wheel moves you through the basic icons on the main menu. Press the wheel to select a feature. Spin again to get where you want next and press to select. Busy web pages and long emails are no problem. Please review the full video report on our website for a look at Blackberry 7100i functions.
[flv]https://www.slashgear.com/videos/Blackberry_7100i_WS_540x300_512kbps_Stream.flv[/flv]Blackberry 7100i – Video Review
To enable this goal, the Nextel network solutions add more capability. Wireless internet browsing is easy with WAP and HTML pages supported. Between the handy phone "send" and "end" buttons you'll find a dedicated browser access button. Handset software allows everything for communication from phone calls, to IM, to email, to the Nextel walkie-talkie service can be initiated right from the contacts list in the address book. The menus are well designed with characters that you can actually read – no micro text. The 7100i also incorporates Bluetooth technology for connecting headsets and other devices.
The handset Help icon will guide you through the features and operation of the phone. Again, the click-wheel interface is great for selecting and scrolling here.
Built into the Blackberry 7100i is a functional GPS for mobile operations. I found that it took a while to get a position fix, but it worked fine after this initialization. You can read latitude, longitude, time and other details on the screen. More importantly, the function is designed to integrate with location based navigation software from TeleNav (www.telenav.com). This software has some great features beyond traditional map and position information that include turn-by-turn voice command directions and a database of businesses for restaurants, gas, and other products. The service is free for 30 days to give you a trial period and only $9.99 monthly if you'd like to subscribe. You'll always be able to get a basic GPS fix and position information on the 7100i, just not the location based software navigation capability.
The design of the Blackberry 7100i incorporates a qwerty-type keyboard which is also the phone button pad. It takes a bit of getting used to but functions well for short emails and documents. One awkward aspect of the device is the retractable antenna which extends from the fixed antenna base. You need to extend this to get a GPS signal and for the best reception. It's flimsy and could be easily damaged. Another feature that was overlooked in the design was extended memory storage. No expansion slot is available on the 7100i, and internal memory is limited to 64 MB flash memory and 8 MB of SRAM. It would have been nice to incorporate an SD slot for attachment storage and transfers.
One great feature, however, is the price. With Nextel incentives now, the Blackberry 7100i is available for $199 which is a tremendous value. Blackberry technology has matured well over the years, and this latest generation incorporating new cellular features will continue the trend. If you want to travel light and fast with flexible connectivity for work and home, the Blackberry 7100i is a great value.