BlackBerry 10 Aristo specs leak out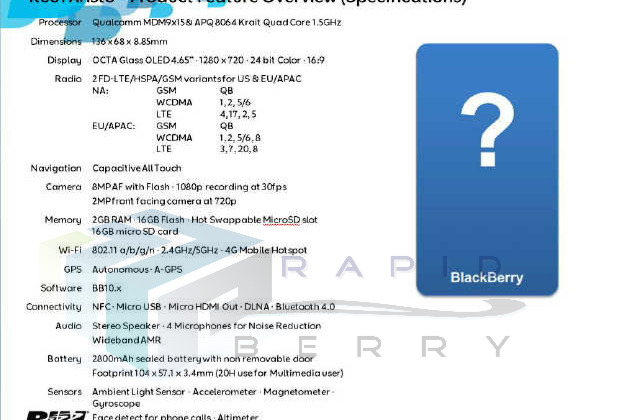 It wasn't too long ago that we were introduced to the the BlackBerry 10 L-series thanks to a leak, and today, another leak is giving us our first look at the A-series. One of the phones in the BlackBerry 10 A-Series has been named "Aristo" and judging from the specs list below, which was uncovered by Rapid Berry, it looks be packing a lot of power under the hood. If the spec list for the Aristo is anything to go on, then it appears that the A-series will be RIM's high-end line of BlackBerry 10 handsets.
The Aristo uses a Qualcomm APQ8064 Krait quad-core processor clocked at 1.5GHz, which should prove to be a pretty powerful processor. On the front, we have an OCTA Glass OLED 4.65-inch touch screen running at 1280x720 resolution, which naturally means 720p high definition. The OCTA screen, which was developed by Samsung, is what allows the Aristo to be the thinnest BlackBerry device yet, coming in at just 8.85mm thick. Not too bad.
We've got a welcome 2GB of RAM running under hood, and when coupled with the processor, the Aristo should be capable of moving pretty fast. There's also 16GB of internal flash storage to take advantage of, which is expanded through the use of a 16GB microSD card. As far as connectivity is concerned, you've got microUSB, mini HDMI, WiFi direct, NFC, DLNA, and Bluetooth 4.0 at your disposal, so connecting and sharing shouldn't ever be an issue.
There's a beefy 2,800mAh sealed battery to power the whole thing, so no, it sadly can't be removed. We've also got an 8MP camera on the back, along with a 2MP camera on the front – standard fare these days, but it's clear that RIM wanted to bring spectacular specifications to other areas of the phone. The specs listed here are certainly getting us excited for next year's launch of BlackBerry 10, and it looks like RIM is serious about getting back into the thick of it, at least as far as offering a range of smartphone choices is concerned. Stay tuned.