Bizarre Limo-Jet doesn't fly and is street legal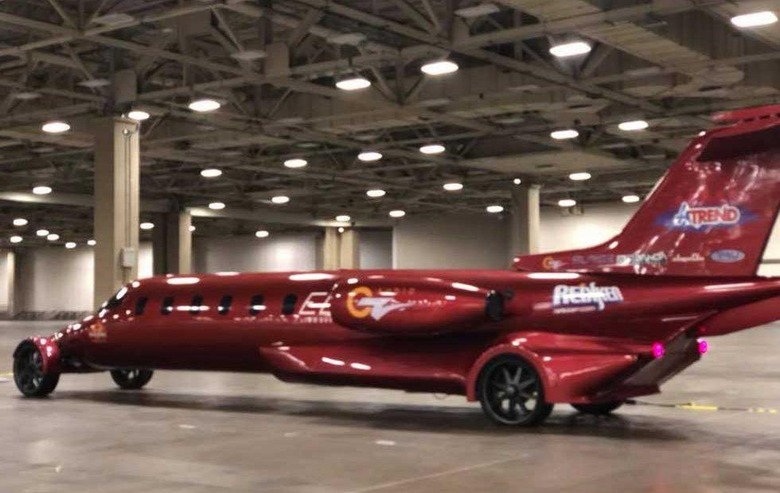 There are several companies out there who are working on making cars that can also fly. The idea is to get you out of traffic and into the skies. We are still years away from being able to own a flying car. A strange vehicle called the Limo-Jet has turned up on Facebook and it looks like it's ready to take to the sky, but it's stuck on the ground.
This thing doesn't fly and started out back in 2006 and is now owned by a company called Jetsetter, Inc. That company says that the Limo-Jet will be released to the public by the end of the month and has a patent pending design. It looks as if it is powered by the jet engines on the rear, but they are just for looks.
Actual power comes from a V8 engine crammed inside the vehicle. Two big wheels are out front by the nose of the ex-private jet. You do still get inside by opening the hatch on the side of the jet. The finished product took 12 years and who knows how much money to complete.
It is 100% street legal and will be rented out to companies for advertising use. Limo-Jet looks more like a land speed record car along the lines of the Bloodhound SSC. There are lots of details that are unknown about this project right now.
We have no idea how many people it will hold, as long as it is we assume a bunch. We also have no idea how exactly it will handle turns, it is big. It's also unclear exactly how much power this thing has under the fuselage.
SOURCE: Facebook