BitTorrent app FrostWire bakes Bitcoin into downloads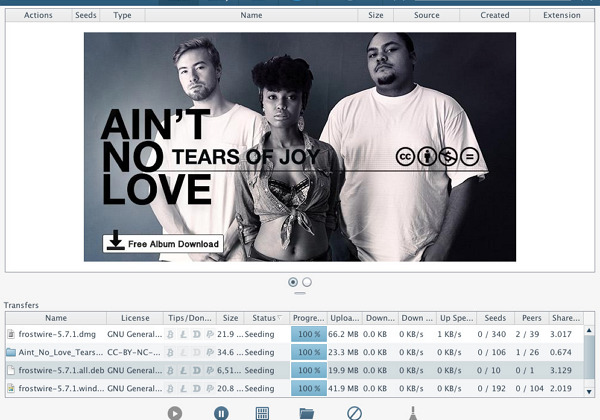 BitTorrent and cloud downloader app FrostWire has become the first open source torrent app to tie the distributed download system with Bitcoin, using the Canadian band 'Aint No Love' as the hook. The service provider has just debuted its in-client Bitcoin tipping feature, allowing fans to pay the band what they think its music is worth.
The Toronto based band has its album 'Tears of Joy' up on iTunes, but at the same time it can be downloaded via FrostWire with the option of making a donation using Bitcoin. This is the first time such a feature is being used on free torrent platform. FrostWire says that the donation option is not restricted to Bitcoin alone; payments via Litecoin, Dogecoin and PayPal are also accepted.

The way it works is this: a torrent is created and uploaded to the FrostWire system. When a user downloads this file, they get the option to make a donation using the crypto-currency via a customized donation page. The good thing about the system is that the donation goes straight into the band's pocket and there is no middleman involved.
The introduction of this feature opens a new gateway of monetizing a torrent. For now, FrostWire plans on keeping equation between the donation and the torrent provider direct, what this means is that they will not keep a cut from the spoils.
VIA TorrentFreak