Bitcoin price on the rise, 1-day value drops return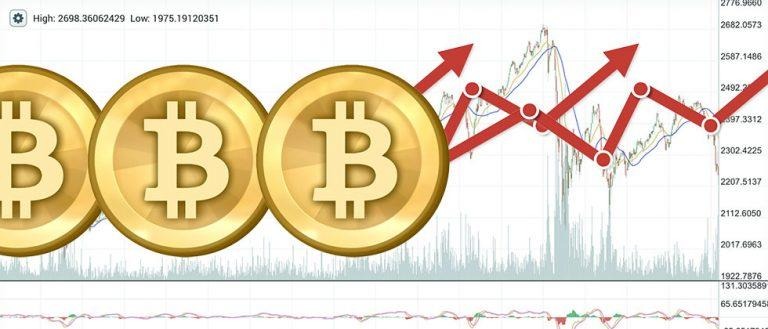 While Friday is generally a profit taking sort of day for stock markets around the world, Bitcoin seems to be moving in the opposite direction. This adds up, of course, since here in the warmer months of 2017, many traders in the cryptocurrency make use of Bitcoin as their trading currency, choosing to value their quick-trade coins in the slightly more reliable value of the most famous of them all. Bitcoin rose a wild 9.8% in early morning trading to around $2,550 a coin.
This rise is after a tumultuous Thursday (by Bitcoin standards) which saw the coin rise to it's highest price ever. This is the highest price in US dollars that Bitcoin has ever reached – $2,799 – the coin having reached this point at around 11:45 AM (Central Time) this Thursday. Soon after the rally that brought that price, a fairly sharp downturn brought the coin to a price it's not been since those heady days back... just a couple days ago, actually.
While the price of Bitcoin in USD seems to have been jumping up and down wildly over the past 24 hours, in fact it's bouncing well above where it's been even earlier this month. Just this late March, Bitcoin was down below $1000, now it's hovering closer to $2,500!
The record-breaking high of this Thursday came less than a day after Wednesday's announcement by the Digital Currency Group. There a scaling agreement was made during the Consensus 2017 conference in New York City. During that agreement, which you can read more about on Medium as written by the Digital Currency Group this week, two parallel upgrades to the bitcoin protocol were agreed upon.
Both of these agreements come from the original Segwit2Mb proposal. The first agreement was to activate Segregated Witness at an 80% threshold, signaling at bit 4. The other was to activate a 2 MB hard fork within six months. Keep tuned to get a heads up on when that's about to happen.