Bitcoin Mining graphics cards released by ASUS, Sapphire with NVIDIA, AMD inside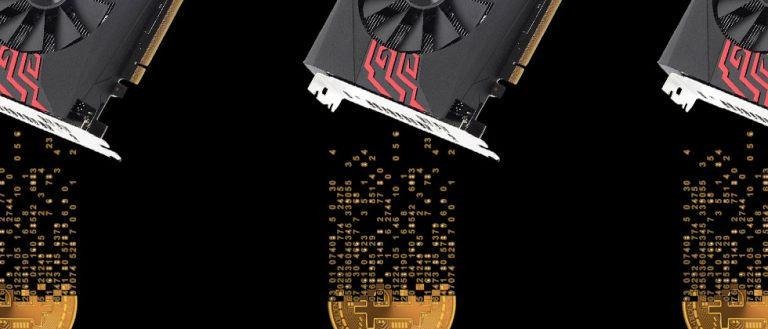 It would appear that one of the biggest names in PC hardware has joined the Cryptocurrency universe with their own mining-friendly graphics cards. ASUS Mining RX 470 and Mining P106 both use NVIDIA GeForce GTX technology to run as efficiently as possible to mine the most cryptocoin for the smallest cost. These cards are "engineered especially for coin mining" and are made to roll with "maximum mega hash rates at minimum cost." UPDATE: A few Sapphire cards have appeared as well, each with AMD Radeon technology inside.
There's a largely untapped market out there of gaming enthusiasts looking to make use of towers gathering dust in their closets. Those PC towers with gear that's just a couple years old – not quite great enough for the newest video games, but perfectly fine for mining Bitcoin. Other cryptocurrencies are just waiting to be mined, as well – Ethereum, Litecoin, Dogecoin, and the rest.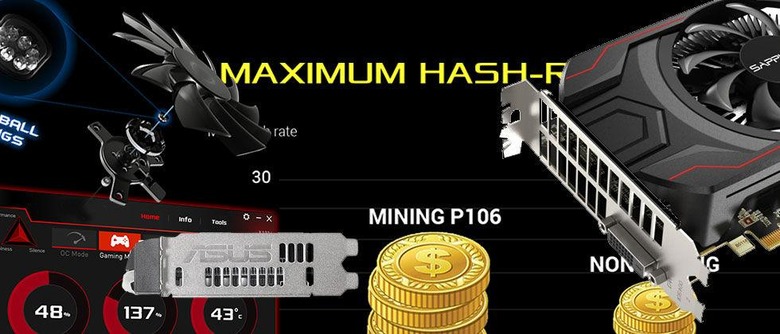 The key to making money on mining cryptocurrency is getting the ratios right. Running a PC for mining coins isn't worth the money one receives if the cost of running the PC is greater than the reward. As such, the right graphics cards must be used.
Also note: a PC without a big-name graphics card can also be used, but in general a CPU used for mining any sort of cryptocurrency is not worth the effort. CPU mining bitcoin costs more than it pays, basically. The same goes for any other sort of smaller-level mining, like smartphone mining, which is similarly insane.
As such, realizing that there's a whole market of users out there looking to make their own mining machines, ASUS has stepped up to the plate. They've revealed two graphics cards aimed specifically at mining. One goes by the name ASUS Mining P106, and the other goes by the name ASUS Mining RX 470.
Both models have:
• IP5X-Certified Fans (dust resistant, long lifespan)
• Fans also Dual-Ball Bearing (smooth, efficient)
• "Industry Only Auto-Extreme Technology with Super Alloy Power II"
• GPU Tweak II software
• Connect with PCI Express 1.0
• GDDR5 memory (6GB for P106, 4GB for RX 470)
• 1280 CUDA cores
Using GPU Tweak II, these ASUS cards allow the user to modify the GPU clock, memory clock, and voltage used. This should – in theory – allow the machine to achieve the best hash rate. Achieving the best hash rate means you're making the most money mining coins.
Above you'll see a set of specifications for both devices as provided by ASUS. Of interest here to the NVIDIA fans – or those that pay very close attention to the names of the tech – the GP106 is just a different brand for NVIDIA GTX 1060 – it's the same basic thing. Also note the display ports – the GP2016 has no display ports, while the RX 470 has just one DVI-D port. This card has HDMI and a DisplayPort holes in it, but no ports other than the DVI-D.
As mentioned by AnandTech, a few more mining-specific graphics cards have appeared this week. Overclockers UK listed several Sapphire MINING Edition graphics cards, each of them coming with AMD Radeon technology inside.
Sapphire MINING Edition Graphics Cards:
Sapphire RX 470 MINING EDITION 4GB memory (11256-35-10G)
Sapphire RX 470 MINING EDITION 4GB Samsung memory (11256-36-10G)
Sapphire RX 470 MINING EDITION 8GB memory (11256-37-10G)
Sapphire RX 470 MINING EDITION 8GB Samsung memory (11256-38-10G)
Sapphire RX 560 Pulse MINING EDITION (11267-11-10G)
As it is with the cards above, these cards have either one display port or no ports at all. Those that aim to purchase these cards will all – hopefully – understand what sort of machine they're getting when they're getting into them. These machines will all be available immediately if not soon, and we expect a whole lot more will be coming from other manufacturers soon!