Bismoto Engineering and Hyundai build a 600 HP Elantra GT concept for SEMA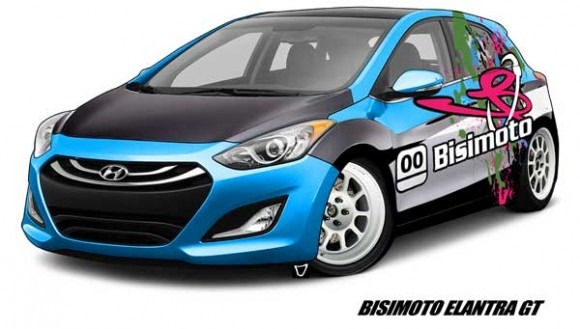 Hyundai has unveiled another concept car that will be traveling to the 2012 SEMA show in Las Vegas. This concept car is an Elantra GT that has been significantly modified by Bismoto Engineering. On the outside, the car is covered in blue and black paint with a graphic scheme that looks like it's straight out of the 80s.
I'm not particularly keen on the splatter paint graphics, but the appeal of the car isn't custom graphics, it's what's under the hood. Bismoto equipped this car with a built 1.8-liter NU family Hyundai engine. With the stronger engine, the car is able to survive under the increased pressure provided by a Bismoto Turbo kit and special camshafts.
There are a number of other custom engine components used in the vehicle that combine to produce over 600 hp from the little four-cylinder engine. The car also has a full roll cage, coilover suspension, custom wheels, and heavy-duty clutch to survive all the extra power. The questionable exterior graphics and paint scheme are actually a custom body wrap.
Inside the vehicle are custom racing seats, a Racepack IQ3 Dash, and a lot more. This may be the most track ready of all Hyundai's concept cars that will be seen at SEMA this year. With all the power this car produces, I can't help but think that the 18 x 8.5" wheels won't be able to fit enough rubber to put all that power to the ground.