Biometric payment system at the pump in Shell gas stations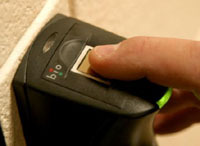 There are 10 test locations in Chicago, and if you want to participate you have to go through the whole registration process, but its kind of cool. I bet you all can't wait until you are getting robbed for your thumbs, speaking of which, if you are a gamer, I'd recommend registering with your pinky.
To register there is a kiosk you have to go to where you register your fingerprint and then assign some sort of payment method to it, credit cards seem the most likely, and then you are on your way. Now if they could integrate this system in-store, that would be great.
I guess you won't have to worry about running out of gas because you forgot your credit card, cash, or debit card. Well, like I said, this ought to fun for thieves trying to find ways to steal from people who aren't carrying cash or credit.
Shell's biometric pump lets you pay for petrol with your fingers or thumbs [via techdigest]