Biofuel Wave-Harpooning Speedboat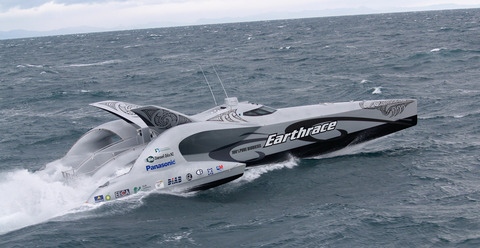 It goes without saying that carbon fibre was initially designed for Civic owning louts to tart up their knobs with (gearknobs, that is), but some people can't leave things alone and will insist on bastardising them for other purposes.  Hence this rather impressive trimaran.
Called Earthrace, the carbon/Kevlar hull is designed to slice into, rather than over, waves, using the 1080 horsepower biofuel engine to scare passengers and passing dolphins as it goes.  Which is all very impressive, but does it have an exhaust made from a coffee bean can and neon lights underneath?  I think not.
Earthrace Boat [Gizmodo]